Stained Glass Art Effect with Tecbond glue sticks
Equipment List:
A large sheet of very clean glass or Silicone mat.
Wallpaper scraper.
Sharp blade.
A sharp pair of scissors
Before we get started a few words about safety. Glue Guns Direct Hot Glue Gun melts glue at 190C. The hot glue will severely burn skin so great care is needed when using the product.  Sharp blades should be used with great care.
Keep organised in your work, this will make the process faster and safer.
1) Load chosen colour stick into glue gun. You will need to use the whole stick as it should never be removed from the gun once inserted.
2) Apply a large amount of glue onto the class sheet with the scraper.
3) Spread the glue to required thickness.
4) Leave the glue to cool completely.
 5) With the blade lift edge of the glue and peel off.
6) Repeat this process with different colours. The glass should be cleaned of any excess glue regularly.
7) Before going any further, the coloured pieces should be left to dry for at least 10 minutes.
8) Now cut out shapes to desired design from coloured sheet.
9) Lay out the design on a sheet of glass the size of the finished work.  No need to be to careful on the edges as these can be cut off after.
10) Now with a clear melt glue stick run the glue all over the reverse side of the work. Make sure the reverse side is well covered with clear glue as this bonds the cut pieces in place.
11) Now with the scraper peel the work off the glass sheet.
12) Turn the project onto the presentation side. With sharp scissors cut around the outside edges of the artwork.
13) With a black melt glue stick carefully run the black glue around the edges of the cut pieces not forgetting to go round the edges of your work.
14) Off cuts can be kept and used in other projects.
The project is now finished.  It can be hung in a window mounted with strong nylon fishing line or placed in a picture frame without the backing. It can be kept in place with a few dabs of clear hot glue.
We hope you have enjoyed this craft session and will give it a try yourself. The artwork can be abstract or a chosen image. You can print the image on tracing paper and use this as a pattern.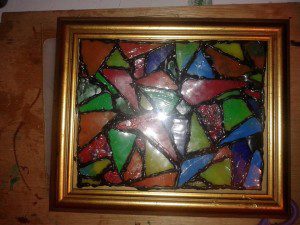 Framed finished project
Jim Hickey