Have you tried CT 1 ?
CT1 Sealant and Adhesive – The One Stop Product for all Sealing and Bonding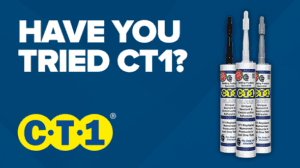 CT1 is a construction adhesive that will never shrink or crack, and it can be structured and painted with any type of paint. When applying conventional sealants, the surfaces have to be dry. As a sealant, CT1 can be applied onto wet surfaces, even underwater. It is also the perfect product to seal baths, showers, windows, doors, roofs, gutters – virtually anything.
It is the only product on the market that is 100% ecologically compliant. As an adhesive, CT1 will create a formidable bond between virtually any materials, also acting as a construction adhesive that will successfully bond all metals, glass, mirror, fibreglass, plastics, stone, concrete – the list is endless.
The adhesive to use for different materials is CT1.
CT1 is a unique hybrid polymer with no solvents in its chemical makeup. It can be used in wet conditions and can be applied even underwater. The adhesive to use for a multitude of applications is CT1, creating a permanent bond that will resist extreme loads, pressure and tensile strain.
CT1 will successfully bond:
Metals (including lead) – Glass – Mirrors – All Woods – Polystyrene – Plastics (excluding Polypropylene) – Fibreglass – Tiles – Concrete – Most Stones (without staining) – Most Synthetic Materials
Unique adhesion on virtually any material in most applications without the need for additional fixings. CT1 is the ultimate solution for interior and exterior bonding and sealing.
• Excellent resistance to chemicals
• Prevents fungal growth
• UV resistant
• Excellent resistance to vibration
• Food safe – conforms to ISEGA Standards
• Works in wet or dry conditions, even under water!
• Can be used in all salt-water environments
• Odourless
• Does not shrink
• Can be painted
• Contains no solvents
• No isocyanates
• Unique flexibility
• Environmentally compliant
• Instant repair and bonding with fibre glass and carbon fibre materials
• Perfect for marine and boating maintenance, accident and emergency repairs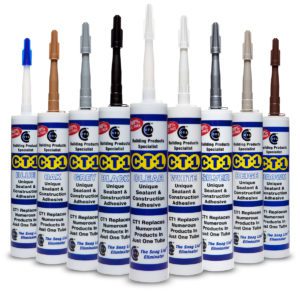 If you have an adhesion problem, don't come unstuck 
talk to the glue experts!