Spend £50 nett and receive a £5 discount at checkout,receive a £10 discount for orders over £100 nett and £20 discount for orders over £200 nett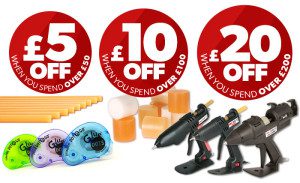 If we advertise it, we stock it !
Remember the £5, £10 and £20 are not vouchers, discount coupons or discount off your next order. The £5, £10 or £20 is applied at checkout at point of order so you benefit straight away.
The discount is applied to the nett order value before VAT/Carriage is added.
Order before 4.30pm for next working day delivery

We will not let you down on delivery, service or price !
What can we GLUE for you ?