Kenyon's are the complete adhesive package!
As many will know Kenyon's are Henkel's number one supply route for woodworking and building component adhesives in the UK. But did you know Kenyon are also Power Adhesives No1 distributor in the UK covering Tec glue guns and Tecbond adhesives for woodworking, packaging, electronics and product assembly. We have been Keeping Britain Bonded Since 1979!
But it doesn't stop there, Kenyon have more gluing option and more gluing power with adhesives from Tuskbond, Loctite and Everbuild. It's not surprising Kenyon's like to say "have a gluing problem, don't come unstuck, challenge our glue experts
Our technical team like a challenge, so challenge them.
We will not let you down on quality, price, delivery or service.

We are the partners for Henkel's range of adhesives for Caravan Manufacturing,  Door and Window Manufacturing, Insulation, Furniture and Joinery Manufacturing. We are proud to be appointed as Henkel's partner for their range of woodworking adhesives many of which are supplied under the proven and trusted brand name Technomelt. Henkel's range of woodworking adhesives are tailored to meet your critical needs, such as lowering cost in use, and increasing efficiency and production output.

We probably have the UK's, if not Europe's largest stock of Tecbond Glues and Tec Glue Guns. We're committed to supplying high quality Tecbond hot melt adhesives and Tec glue gun applicators to meet the ever changing and challenging materials used in today's manufacturing processes. Delivering total solutions for any and every application problem. Solutions which include the supply of both the adhesive and the application equipment. Solutions which place great emphasis on being environmentally responsible and solutions based on the innovation you need to remain competitive.
Over 90% of the Tecbond adhesives and Tec glue guns are made in the UK, and we offer 12 months warranty as standard on all our Tec glue gun range 12mm, 15mm, 43mm and spray tools

Industrial pressure sensitive adhesive products provide a clean, instant bond with no mess, residue or odour, making them a preferred alternative to hot melts, liquid glues and double-sided tapes. Glue Dots® pressure sensitive, double-sided adhesive patterns provide a clean, instant bond with zero cure time, less waste and safer application without requiring heat. Glue Dots leave no residue or odour and increases productivity while reducing costs.
Invisible Solution. Visible Results.

Tuskbond offer a wide variety of adhesive products available. Whether required for woodwork, roofing, or construction, Tuskbond adhesive products bond and seal surfaces firmly. Products have high heat resistance and no sink-ins preventing the yellowing of surfaces and with quick and easy application, you can save on time whilst increasing your workflow. Whether your bonding HPL to core boards, assembling mattresses or contract flooring, there's a Tuskbond adhesive for your application. Made in Britain

LOCTITE® is the trusted choice for high-performance adhesive, sealant and coating solutions for manufacturing segments across the globe. LOCTITE® products are used in objects that touch lives every day from aircrafts to furniture. Our experts are dedicated to optimising processes, driving costs down by developing products that improve performance, and understanding every challenge in every market of our valued customers. LOCTITE® is the world's leading brand for adhesives, sealants and surface treatments. With breakthrough technology, we provide solutions that deliver on our goals providing more efficient adhesives that are durable, strong and long lasting to unlock the limitless potential of man and machine. Learn more about our expansive product portfolio for the most demanding industry applications.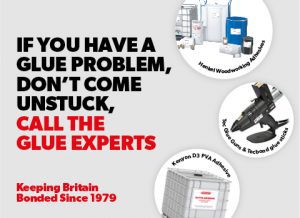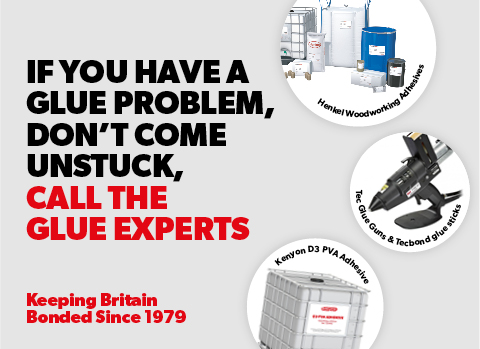 43 years of gluing knowledge and experience Kenyon's are challenged on a daily basis to find the answer to various adhesive problems and new applications. You will be amazed at what we have been asked to bond and the majority of the time we have surprised ourselves by providing the answer to some very difficult adhesive problems. Kenyon's offer a comprehensive range of market leading adhesives technologies, Technical support and training, UK stock holding across three warehouses and delivery when the customer needs it.  Kenyon's are the complete adhesive package!
What can you glue with our range of adhesives? Have a gluing problem, don't come unstuck, challenge our glue experts call 0161 627 1001