We're offering you a FREE Tec 305 12mm craft glue gun (worth £23.14) or a FREE Tec 806 12mm / 15mm industrial glue gun (worth £58.64 / £74.50) when you buy selected grades and quantities of Tecbond glue sticks.
How to get your FREE glue gun…
It's simple, select the 5kg option:

For a free Tec 305 – add 2x 5kg 12mm Tecbond 132 glue
For a free Tec 806 – add 4x 5kg 12mm or 15mm Tecbond 132, 134 or 135 glue
Your free glue gun will automatically be added to your basket.
You will not qualify for a free glue gun any other way!
1 free gun per order
If you add 8 cartons to your basket you will still only get 1 free gun.
However, you can order multiple times.
Any current offers are not included in the free glue gun promotion.
This is a website only promotion.
Ends Thursday 21st December 2023 at 12pm Noon.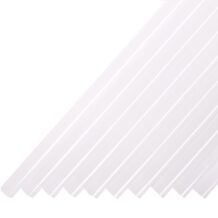 TECBOND 132 / 12mm Glue Sticks
Economical clear general purpose adhesive with good adhesion to many surfaces
All round general purpose clear hot melt adhesive used within a vast array of applications from arts & c...
Showing all 6 results