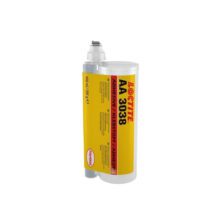 Loctite AA 3038 Polypropylene Bonding Adhesive
LOCTITE® AA 3038™ is designed primarily to bond e-coated metals (ECS) to glass fibre filled polypropylenes (PPGF) but can also be used on other low energy substrates such as LDPE and HDPE
Yellow, pre-mix polyolefin structural bonder which has good impact resistance with good adhesion to polyo...
Showing 1–10 of 15 results
Polypropylene (PP) is an incredibly versatile thermoplastic polymer being both lightweight and extremely rugged.
Polypropylene can tolerate high temperature (160c), doesn't absorb water and can withstand continuous flexing, plus it is very resistant to acids and other harsh chemical solvents, making Polypropylene an indispensable material to virtually every field or industry you can imagine, from household goods and consumer packaging to medical technology and the military.
Given its versatility and outstanding performance, polypropylene appears as a mind-boggling array of products that span just about every industry or field of interest imaginable and is rapidly becoming the preferred material of today's manufacturing processes.
Traditionally, the bonding of polypropylene to itself or to other materials has been a tough call for an adhesives, until now!