Unique hot melt adhesive solutions
Tecbond have launched a unique solution that will cut the cost of spraying hot melt adhesives to bond the majority of today's manufacturing materials, including heat sensitive substrates like expanded polystyrene.
The Tec 7300 spray tool powered by dual 500 watt heaters delivering over 5 kilos per hour of molten adhesive is a serious alternative to the expensive bulk hot melt melters / systems. The Tec 7300 system is portable, low cost and easy to use, and is ideal for main production, bespoke custom work and prototype design.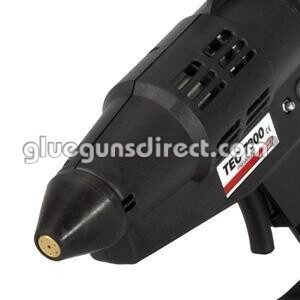 The Tec7300 is a hand held applicator which quickly melts 43mm Tecbond Spray-Tec adhesive slugs. There is no chamber to clean or empty. The Tec 7300 delivers a massive melt rate of over 5 kilos per hour of molten Tecbond Spray-Tec adhesive. With cord set options, standard 3 metre air line and electrical cable, 6m or even 12m giving more options to the operatives. The Tec 7300 heats up in just 10 minutes and on pulling the trigger effortless delivers adhesive over an area of 2 square metres with one adhesive slug on demand. Tec 7300 is complimented by changeable spray nozzles enabling the tool to deliver wide or narrow spray patterns and vary the adhesive through-put.
MORE THAN JUST A GLUE GUN…
TEC 7300 is one of a series of powerful pneumatic hot melt applicators and is probably one of the world's highest-output hand-held hot melt applicators. The TEC 7300 is a serious alternative to bulk tank hot melt systems at a fraction of the cost !!
Built to a very high standard, the TEC 7300 is totally self-contained. The most unique feature on this tool is the built-in speed loader, which holds an extra two 43mm glue cartridges in reserve. Plus, it also enables the user to re-load in seconds whilst continuing to use the tool. Due to the advanced heater housing design and the powerful dual 500 watt heaters, the TEC 7300 is able to dispense up to 5 kilos of molten hot melt per hour.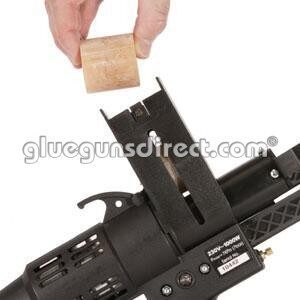 Complimented by the vast range of Tecbond shaped high performance hot melt adhesives formulated for bonding a multitude of materials used in insulation, green roofs, pre-cast concrete moulds, filters, landfill, plus many more challenging applications. With Tecbond adhesives being solvent free and non-toxic there are no environmental problems that are often associated with other adhesive fixing systems, which is a huge advantage with new European Environmental standards being recognised.
Tec 7300 powerful sprayability on demand!
To arrange a demonstration please call 0161 627 1001 or email: sales@gluegunsdirect.com