Whatever your needs, there's a glue gun to suit your specifications – from arts and crafting to electronics or woodworking. However, there are always those times when you need a little extra. Here's our guide to the accessories that will help you get the most out of your glue gun.
Nozzles
We offer a wide range of nozzles for the Tec glue guns allowing the operator to speed up gluing or control very small amounts of glue. Spreader, precision, extension, multiple hole and specialist nozzles for carton closing. TEC 305, 805, 810, 820, 806 
Stands
Stands, like spring balancers (see below) are a really useful tool for resting your hands when working with glue guns. When the glue gun is not in use, a stand will allow you to safely secure your glue gun for further use.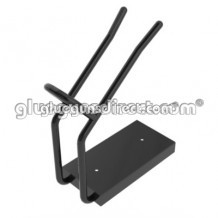 We stock a number of glue gun stands for a variety of products and needs – the MDC009, for use with the Tec 305/806/810/820 range, the PA3096, for use with Tec 3150/3400/6100/7100 guns, and the SK-800, also for the 810/820 range, but in a magnetic form.
Spring Balancers
Spring balancers are a cheap and handy tool that allow users to take some pressure off their hands and focus on their work.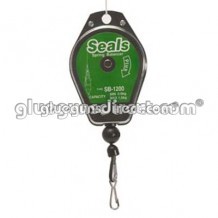 They allow the glue gun to be suspended at a number of heights – whichever best fits application. The user can then guide the glue gun (without feeling the weight or strain) for their purpose. The majority of glue guns feature a small spot on which to clip the spring balancer. Try the SB/1200 or SB/3000.
Cleaning
We've already written about the importance of maintaining your glue gun. A number of products can be used in order to keep your glue gun clean and in best working order.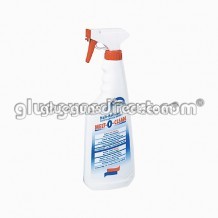 The Melt-O-Clean Hot Melt cleaner is a great way to clean your glue gun in a safe and powerful way. The cleaner removes residual and charred adhesive, as well as getting rid of any oil or grease that may have built up on your gun. Although not technically a cleaning product, this Tec Mat silicone drip mat will keep your work surfaces clean and dry.
Bench Mount Kits
Tec have released a bench mount kit for the Tec 6100 glue gun. This allows the gun to be statically mounted and operated by foot pedal. This means hand and finger cramps can be avoided while still receiving the full operational capacity of the glue gun. The kit includes a vertical nozzle, and a timer can be added to the kit in order to increase productivity.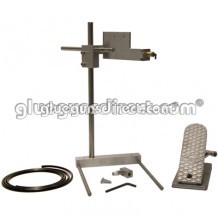 We also offer a timer, the TEC4000-TK, for use with the bench mount kit. This allows a controlled amount of glue to be dispensed with each operation of the foot pedal, decreasing glue wastage and increasing productivity.