The first model Tec 2000 was rolled out around 1978, and the upgraded Tec 2001 was soon to follow. The Tec 3010 was available during the 1980's, followed by the Tec 3100 a very popular and robust tool.

The Tec 2000 had a "flick" stand-by switch. The upgraded Tec 2001 had an Auto-Standby which is still present in today's Tec 3200 model.
Tec 3200 is a powerful high output glue gun with auto standby, electronic technology at its best making the Tec 3200 an ideal tool for high adhesive output for product assembly, packaging and point of sale. Accepts Tecbond 43mm instant bonding adhesives for gluing of virtually any material ensuring fast, efficient, cost effective production. What we like about this tool is "the high efficiency heater housing, coupled with a solid state adjustable temperature controller, guarantees adhesive at the right temperature just when you need it." Range of optional nozzles for various tasks and optional temperature modules from Low Melt to High Temp 215c are available giving the user more choices.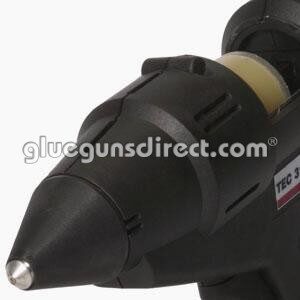 The Tec 3200 loaded with two TECBOND 43mm glue slugs can never run out of adhesive, as a glue slug always remains in the glue gun at the right temperature. Tec 3200 is a proven glue gun and our flagship tool within the Tec glue gun range supported by the economical version Tec 3150. All Tec glue guns are available in 110 volt, low melt and carry a 12 month warranty.
Tec 3200 was probably our most popular 43mm glue gun ever…  Sadly this glue gun has be retired from production, and has been replaced by the Tec 3400 with updated intelligent automatic stand-by system.
For further details of Tec glue guns or Tecbond adhesives please contact our sales offices on 0161 627 1001 or email sales@gluegunsdirect.com