Are you gluing Totem Displays, Merchandising Units, Free Standing Display, or Counter Display constructed from corrugated or solid boards with a high quality flexographic or lithographic print finish for Point of Sale (POS) or Point of Purchase (POP)?
Tecbond Hot Melt and Low Melt adhesives are perfect for the task in hand.

Tecbond glue sticks are made in the UK to the highest standards and precise tolerance and with over 40 different formulations, plus custom formulations to choose from, we have your application covered.
Tecbond 134 – Low cost fast set time and medium viscosity, used on a wide range of paper, card, plain and printed board materials. Available in 12 and 15mm glue sticks
Tecbond 214 – Tried, tested and the industry standard for POS and POP applications. Fast setting and economical, available in 12, 15 and 43mm glue slugs
Tecbond 261 – Flexible glue line for bonding difficult surfaces, laminates and UV varnished boards. Available in 12 and 43mm glue slugs
Tecbond 265 – High performance grade for bonding variety of plastics, laminates and many UV cured varnishes. Available in 43mm glue slugs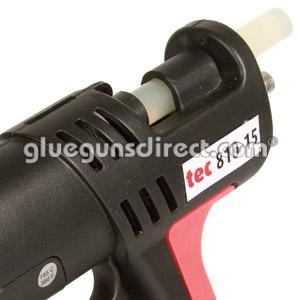 When you need glue fast – Think Tecbond 15mm glue sticks.
Tecbond 15mm glue sticks offer an increased output of 30% more molten glue per trigger pull, and with the glue gun holding up to 60% more glue means you do not need to reload as often as you would with a standard 12mm glue stick!
Low melt adhesives & guns are safe & easy to us. They carry a reduced risk of burns due to a lower application temperature and are commonly used for bonding heat sensitive materials e.g. polystyrene or for delicate intricate work.
Our range of shaped hot and low melt adhesives are World leading and offer a range based on EVA, Polyamide, Acrylic, Polyurethane (PUR), Polypropylene and Polyolefin. It's not surprising that we like to say, What Can We Stick For You or Challenge Us, We Can Bond Anything!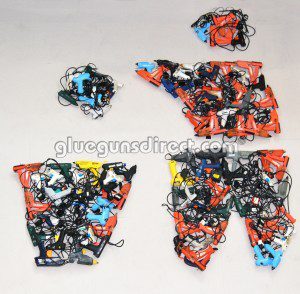 Have an old or broken glue gun? Don't throw it, exchange it for a new Tec glue gun with a 12 month warranty at a discounted price.
For further information please call our friendly sales team on 0161 627 1001 or email: sales@gluegunsdirect.com
Related links: