Tec 305-12 glue gun offers unrivalled reliability, ease of use and exceptional adhesive melt rate for a glue of its size and is rapid becoming the preferred choice for the art and craft fields.
Delivering a whopping 750 grms of molten glue per hour, powered by Eco efficient self-regulating heaters making the Tec 305-12 ideally suited to applications where controlled amounts of adhesive are required repetitively in model making, arts & crafts, schools and general use.
Tec 305-12 Review
We put the Tec 305-12 to the test with the staff from the Art School in Manchester who exhibited their own work this summer at the RHS Flower Show at Tatton Park in Cheshire and used the new Tec 305-12 glue gun as a tool to create artworks. Some used the glue gun in the traditional way as a means of sticking things together, which made life a lot easier! – whereas others used the glue gun to make the artwork itself.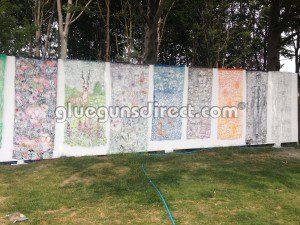 Some quotes from people using the Tec 305-12 glue gun for the first time were:
"Love the on-off switch – I usually forget to unplug my old gun. This makes it easier to use only when you need it."
"The larger trigger makes it much easier to control the flow of the glue."
"The best craft glue gun I've used – where can I get one?!"

Local artist Clare Knox-Bentham actually used the Tec 305-12 glue gun to create artworks out of glue and found it easier to make smaller, more delicate work than usual. Clare said "My usual glue gun is the Tec 6100 Pneumatic which allows me to make large scale artworks quickly and easily but the Tec 305-12 is much lighter and easier to control for smaller work. The adjustable trigger helps me control the amount of glue I use and it's so exciting to be able to use coloured glue sticks in my work too! The on-off switch and stand make it much more convenient and safer to use than those fiddly little craft glue guns that you have to lay down flat whilst they're still hot. The Tec 305-12 has allowed me to get much more delicate detail in my work."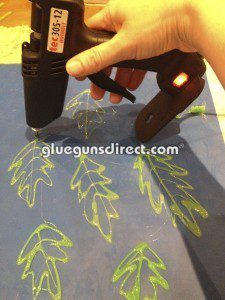 The work produced was exhibited at the RHS Flower Show at Tatton Park and at the Whitworth Weekender at the Whitworth Art Gallery last summer and create a lot of attention and interest.
The Tec 305-12 is rapidly becoming a firm favourite within arts and crafts from homeworkers to schools and universities. The narrow profile of the Tec 305-12 aids visibility, allowing the molten Tecbond adhesive to be placed with high accuracy and is ideal for bonding delicate items such as sequins and diamante bonding when used with Tecbond 132/12/300 glue sticks.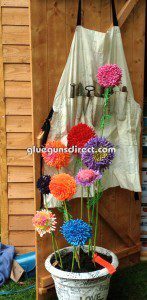 Tec 305-12 replaces the now obsolete Tec 250, Tec 175 and Hobby-Tec 150 glue guns and is available in both Hot Melt and Low Melt. Designed to work best with Tecbond 12mm glue sticks and Tecbond Coloured & Glitter glue sticks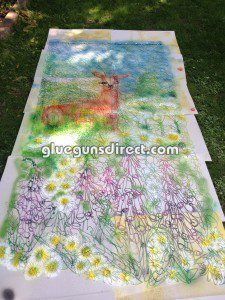 We offer two versions of the Tec 305-12 glue gun, Low Melt or Hot Melt, suited for either hot melt or low melt adhesives. You can find out more about the difference between hot melt and low melt adhesives.
Buy the Tec 305-12 we also offer a range of Nozzles & Extras for the Tec 305-12
Low melt version of the Tec 305-12 includes 10 free sticks of Tecbond LM44-12 and the hot melt version includes 10 free sticks of Tecbond 132-12 glue.
Glue-Gun Do's and Don'ts for Best Performance, Safety Advice, and Maintenance Tips:
Always insert a glue stick into the applicator before plugging it in.
Before use, always allow the applicator to warm up to the operating temperature.
Tech's silicone drip mat prevents damage to the work surface and ensures a clean gluing environment.
Most Tech glue guns are ready to use within 3-5 minutes.
Spray glue guns should be allowed to heat up for at least 10 minutes.
Never lay the applicator on its side.
Always use the supplied gun stand or an optional stand for bench mounting.
If not using the applicator for 40 minutes or longer, either unplug it or dispense a small amount of adhesive for easier start-up next time.
Upon finishing, disconnect from the power supply and extrude about half a stick of molten glue.
Never retract a partially melted glue stick through the back of the gun.
Never remove the nozzle from a cold applicator as it could damage the thread; remove only when warm.
Always wear protective gloves when handling or adjusting the nozzle.
Wipe away any excess molten glue from the nozzle after each session to prevent glue build-up which can char.
To clean your glue gun, use Henkel Melt-O-Clean it effectively removes residual charred adhesive and heavy grease/grime.
For more information on glue gun maintenance, call 0161 627 1001.
What can we "GLUE" for you, please call 0161 627 1001 or email: sales@gluegunsdirect.com
Links:
Tecbond 12mm Low Melt glue sticks
Tecbond Coloured & Glitter glue sticks