The EconoDot™ combines simplicity with affordability in a bench-top dispenser.
Designed for both short and long term projects, in occasional or continuous use environments, the EconoDot makes adhesive application quick, easy and cost effective. Lightweight design and small footprint allows The EconoDot™ to be quickly and easily moved from work station to work station The EconoDot™ is easy to use. Simply press the item to nose plate, remove and GLUE DOTS advances.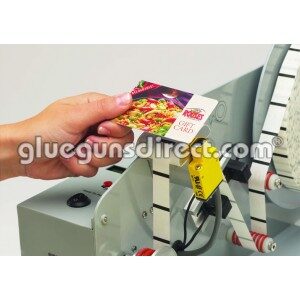 THE RIGHT GLUE DOTS™ FOR THE JOB – Available in four adhesive tack levels and three profiles, there's a GLUE DOT™ for almost any application. In most cases, Super High Tack creates a permanent bond, while Low*, High and High Shear Tacks are considered removable.
12 mm diameter dots, 0.5 mm profile (thickness) x 4000 dots per roll available in all 4 tack levels.
Take a look at Econodot for further details