Tecbond instant bonding hot melt adhesives are ideal for gluing Corrugated Plastic Sheet
At Gluegunsdirect.com, we provide specialised solutions for bonding Correx, or corrugated plastic sheets. Our recommended adhesive, Tecbond 261 or Tecbond 267, is designed to deliver superior bonding strength while maintaining the integrity of the Correx. Compatible with most standard hot glue guns, and ideally suited for our Tec range, Tecbond 261/267 ensures reliable and durable results for all Correx bonding needs.
Also known as polypropylene fluted board. Commonly referred to by the brand name – Correx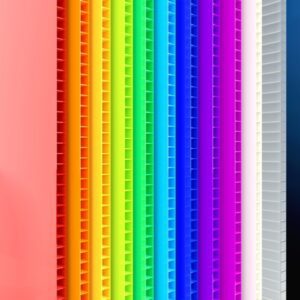 This fluted plastic is used in many industries such as Automotive, Construction, Display and Point of Sale, Rail, Pharmaceutical Packaging and is also used extensively in the returnable food plastic packaging industry. Tecbond adhesives offer a problem solving gluing solution from a hand held glue gun.
Tecbond 261      Very flexible, high performance and versatile hot melt adhesive.
Tecbond 267      High performance adhesive formulated for Polyolefin plastics such as polypropylene and polyethylene. This adhesive has good high heat resistance and low temperature resistance
What can we "GLUE" for you ?
Q: What type of adhesive does Gluegunsdirect.com recommend for bonding Correx – corrugated plastic sheets?
A: Corrugated Plastic Sheet also known as Polypropylene Fluted Board which is commonly referred to by the brand name Correx. Correx is lightweight and rigid made from twin ­walled polypropylene sheet. To bond Correx you can use either Tecbond 261 or 267 hot melt adhesives
Q: Do I need a special type of glue gun to apply the Tecbond 261 or 267 adhesive?
A: Applying the adhesive hot is important so using a quality glue is essential. For Tecbond 261 12mm adhesive we recommend Tec 810-12 or Tec 820-12 glue guns. Tecbond 261 15mm adhesive we recommend Tec 810-15 or Tec 820-15 glue guns. For Tecbond 267 we recommend Tec 3400, Tec 6100 or Tec 7100 glue guns.
Q: How can I ensure a strong bond when using the adhesive on Correx – corrugated plastic sheets?
A: The key to bonding Correx is getting the glue down hot. Bring the substrates together quickly and apply compression. If you don't apply the glue hot you may achieve a cold bond which is likely to fail.
 Q: What is the setting time for Tecbond 261/267 when used on Correx- corrugated plastic sheets?
A: Tecbond hot melt adhesives are instant bond gluing solutions. Open time can vary depending on ambient conditions and the chill factor of the materials to be bonded. Key is to apply the molten adhesive, bring the substrates together quickly and apply compression. Once the adhesive has lost heat and solidified the bond has been created.