Create beautiful and amazing designs, let your imagination run wild with Tecbond coloured glue sticks!
Take a glass or ceramic bowl, Tec 305-12 glue gun, Tecbond coloured glue sticks and have fun and enjoy making many different designs and patterns. Create, transform and decorate….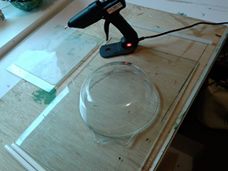 I start with clear hot melt glue to create structure.  Layer in a cross-hatch pattern to give the bowl strength.
I have used a Pyrex dish, but whatever you use make sure it's clean, as this helps with the release of the hot melt glue pattern from the bowl.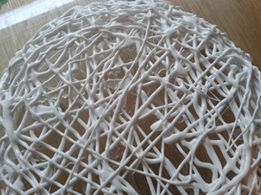 Apply base colour hot melt glue to the sides – you will not see the bottom.The colour can be of your choice either in a pattern or just random. Leave to cool, later we will build up sides, lip and inside. Once cool run a sharp blade around the lip of the pattern to release the bowl from the mould. Once released you can start to build up the lip, sides and inside. I placed the hot melt glue bowl back inside the mould to make sure the shape is retained.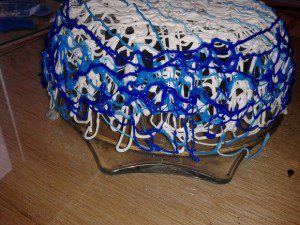 Once cool again release the glue bowl from the mould. Clean and tidy up the edge of the glue bowl with the scissors.
We are done – quick and easy to make, and with so many shaped bowls around you can make all kinds of shapes and forms.
Note: Standard hot melt adhesives are not water or dishwasher resistant.
Please also note that you can spray the finished product with a clear lacquer to help improve UV / sunlight resistance, as otherwise the glue can soften in direct sunlight if left for too long.
Have fun and enjoy.
Jim Hickey.