Are your boxes springing open? Waiting to long for the bond to be made?
Think you have a good bond only to see the carton pop-open at a later date (cold bond) !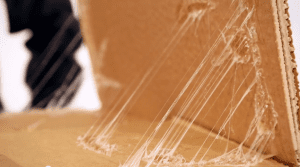 Then you should be using Tecbond hot melt adhesives that have been designed for sealing cartons, closing of boxes, tray erecting, if fact any application where you are bonding board to itself or to other substrates.
Take a look at our range of products for bonding board to itself and other materials, Low Odour and Fast setting grades, products for UV varnished or coated boards, whatever you are gluing we have a GLUE for you !
Q: The best glue sticks for paper, board, box assembly, carton sealing, case making, tray forming?
A: Recognised as the market leading glue stick for packaging applications, Tecbond 134 offers a combination of a fast set time and medium viscosity which allows Tecbond 134 to be used on a wide range of paper, card, plain and printed board materials. Perfect allrounder for standard, printed boards and packaging. Can also be used as a low melt adhesive for heat sensitive materials, e.g. polystyrene and foam applied via a suitable Tec glue gun at a temperature range between 130c-160c. Tecbond 134 is available in 12mm, 15mm and 43mm glue sticks and also in a bulk format for tank systems. Tecbond glue sticks are Made in Britain
Q: Best glue sticks for UV Varnished, coated or laminated board, PP coated, PET laminated, varnished and high-density board?
A: Standard glue sticks lack adhesion to difficult boards and other tricky surfaces. Although a bond appears to be made adhesive failure the loss of adhesion between the adhesive and substrate soon occurs. The adhesive pulls cleanly away from the substrate. Specialist grades have been formulated for difficult boards such as, Tecbond 265 and Tecbond 261. True problem-solving adhesives for challenging packaging applications. Tecbond glue sticks are Made in Britain. Also available in bulk formats for tank systems.
Q: Best glue sticks for Tri-walled board, "springy" board?
A: Tripled walled cardboard is a real challenge for standard glue sticks as they often lack the hot tack / molten tack which is the holding power of hot-melt adhesives while in the liquid hot state. Tecbond 342 adhesive has been specially formulated for use on heavy-duty carton board and other substrates that require a high molten tack and instant hold which allows the adhesive to grab and secure the board while the adhesive sets.
The high viscosity and white colour also make this adhesive suitable for cable attachment in telephone, computer and alarm installation industries. Tecbond hot melt adhesives are Made in Britain. Also available in bulk formats for tank systems.
Q: Best glue for end of line "pop" opens or re-sealing damaged cartons/boxes?
A: End of pop opens where the glue line has failed resulting in the carton "popping" open often caused by lack of compression or insufficient adhesive during the packaging process. Cartons that cannot be fed back need to rework or deemed unfit for purpose resulting in a costly waste. Tecbond 134 is the perfect adhesive for reworking pop opens offering fast setting speeds and high molten tack. Also available in bulk formats for tank systems. Tec glue guns have a 12 month warranty
Q: Best glue sticks for deep freeze applications or cold storage?
A: Tecbond 134 glue sticks are ideal for box assembly, carton sealing, case making, tray forming for cold storage at low temperatures to -15c. Cartons for freezer storage Tecbond 132 glue sticks with low temperature to -30c are ideal. Also available in bulk formats for tank systems. Don't throw your old glue guns, service exchange them for a new Tec glue gun at a discounted price.
Q: Best glue for secure and tamper-resistant used within healthcare and pharmaceutical packaging?
A: We offer a range of coloured glue sticks used for product identification, batch coding, tamper resistant seal, tamper–evident and security marking of cartons. Range of colours available: black, white, brown, dark green, light green, gold, red, silver, yellow and light blue. Available in 12mm glue sticks. Can also be used for making wax seals!
Q: Are Tecbond glue sticks FDA approved?
A: Yes, Tecbond hot melt adhesives are F.D.A. approved for indirect contact. All the constituent parts of Tecbond adhesive have been approved by the American F.D.A. under C.F.R. 21.175.105 (adhesives) (subject to limitations). Tecbond glue sticks are Made in Britain. Advanced technology at the UK manufacturing facility and a continuous programme of research and development ensures that we continue to meet the ever changing and challenging needs of industry.
Q: I use metallocene technology for my bulk adhesives, can I get a metallocene glue stick?
A: Yes, Tecbond 345 metallocene glue sticks offer exceptionally high instant grab and very versatile with excellent adhesion to difficult boards. More mileage vs EVA up to 40% reduction. Tecbond 345 metallocene adhesive, the old saying "less is more" is true. Tecbond 345 metallocene based hot melt adhesive is less dense so the same volume of adhesive will weigh less when compared to standard EVA packaging adhesives. Available in 12mm glue sticks. Also available in bulk formats for tank systems.
Q: What is Coffee cup adhesive?
Cardboard wraparound the plastic "to go" coffee cup to prevent heat transfer is secured using Tecbond 7718 commonly known as coffee cup adhesive. Adhesive with a high heat resistance and boil test are required for this application. Available in Polyolefin (PO) and Polyamide (PA) grades bulk formats for tank systems. Did you know: Tecbond adhesives are often formulated using raw materials harvested from sustainable managed forests. Our packaging is recyclable, and where possible made from recycled materials.
Large volume or continuous gluing – Tecbond 110-PL applied via a Nordson bulk tank system