Gluegunsdirect are celebrating another great milestone in their history today as they have received their 20,000th order via their online website from Winterbourne Ironcraft.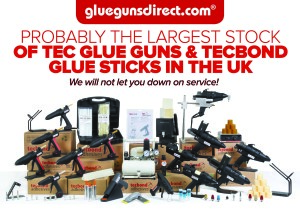 It's been a tremendous achievement and a significant landmark, which everyone at gluegunsdirect is proud to be a part of.
Our 20,000th order was for our Low Melt adhesive used by Winterbourne Ironcraft for bonding polystryrene packaging inserts to cardboard for their packaging requirements.
Gluegunsdirect.com are the number one supplier of Tecbond adheisves, Tec glue guns and Glue dots in the UK, if not Europe ! Buy Glue guns, Glue sticks and Glue dots faster at gluegunsdirect.com – if we advise it, we stock it !
Thank you for shopping at gluegunsdirect.com