Buy a Tec 805-12 hot melt glue gun during March 2017 and 5 kilos of clear glue sticks at a bargain price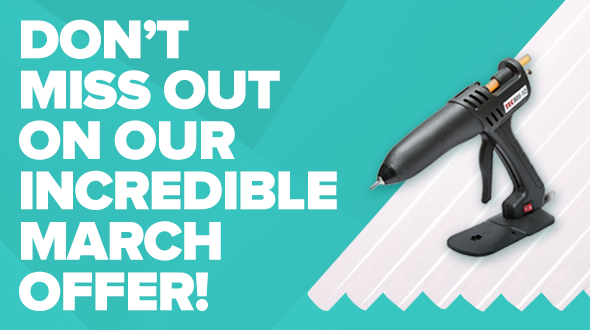 High quality glue gun that is both robust and lightweight.
Tec 805-12 hot melt glue gun
+ 5 kilos of Clear glue sticks (approx. 270 glue sticks)
Only £55.00 + VAT
Carriage paid or upgrade to next day delivery (if applicable)
Keep on GLUING with a Tec glue gun
No limit to how many Tec 805-12's you can order, extra discounts at checkout apply. Offer does not apply to the Tec 805-12 low melt model. 5 kilo carton of free clear glue sticks approx, 270 sticks per carton each stick 12mm dia x 180mm length.