New Tec 806-12 Glue Gun
New Tec 806-12 Low cost medium size industrial 12mm glue gun, eco melt chamber design for low power consumption, robust & easy to use. Medium output, 3 minute warm-up time  when using Tecbond 12mm glue sticks & illuminated on/off switch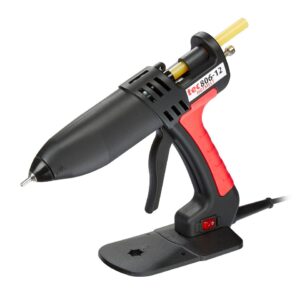 The tec 806-12 can be used for a range of woodworking applications, with a good output and smooth operation.
It is ideal for product assembly too, and the slim profile of the 806 means that the adhesive can be accurately applied
Robust and reliable, the tec 806 is also ideal for a range of carton closing and packaging applications.
Tec 806-12 glue gun specification:
Melt rate 1.8kg /hr
Glue size Tecbond 12mm glue stick
Voltage 110-240V
Wattage 25W (250W)
Heater PTC
Temp Control Self-regulating heater
Power cable 3m (10 ft)
Weight 450g
Keep on GLUING with a Tec Glue Gun !