Tecbond 261 – very high performance, versatile flexible adhesive with good adhesion to plastics including polypropylene.
Bonding polypropylene (PP), as you may have experienced polypropylene can be tough to bond !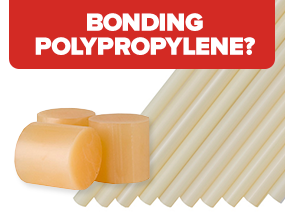 Achieving good bonds depends on the ethylene content of the polypropylene, more ethylene the tougher it is to bond.
If the Polypropylene is a straight forward block polymer then you can achieve good bonds with Tecbond 261
Request a sample – call 0161 627 1001
High ethylene content and Tecbond 267 is the only option !!!
Very high ethylene content and the only good bond is plastic welding or solvent welding
Always apply Tecbond adhesives with a suitable Tec glue gun, get the glue down hot (avoid cold bonds), bring the substrates together quickly and apply compression
Standard hot melt adhesives are not water resistance as a general rule !