Who are Kenyon Group Ltd, frequently referred to as "Kenyon's"?
Darren Ogden – Kenyon Sales Manager steps up to answer the question – Who are Kenyon's:
The name Kenyon is synonymous with adhesives since 1979 yet we glide under the radar of the multi-national competitors by delivering an impeccable service to the end user.  We are a family company, with strong family values celebrating 40 years in the adhesive world.  From our base in Oldham, Lancashire we supply the UK woodworking, furniture, caravan, insulation, mattress, window, and door manufacturers with a range of high quality adhesives.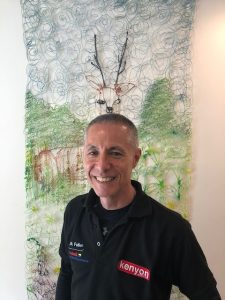 What makes us stand out from the crowd?  That's simple: UK stock holding across 3 warehouses – no lead times – we deliver the goods when you need the goods – we put in the time and effort to ensure we help the customer achieve the best solution!  I'm amazed at how many companies believe they are getting a good service from their incumbent adhesive supplier, yet the supplier dictates delivery; 7 days, 14 days and even 35 days!  This makes the customer's planning and inventory control difficult, to say the least.  There's nothing worse than a failed delivery – it stops production and costs money.  With Kenyon's our customers tell us when they want delivery and we will deliver!
Delivery is important, very important, but you have to back it up with a quality adhesive product, offer technical support / advice and solve adhesive problems.  There's little point in receiving the delivery on time if the adhesive doesn't do what you require it to do!  We tick all the boxes and don't forget we are very competitive on price.  However, in the current economical market we are seeing more and more that the delivered price doesn't appear to be the dominant deal breaker.  The importance has switched to the ability to deliver the right product at the right time.  On time delivery normally now outweighs a few pence a kilo saving.  It's a proven fact, just ask any customer whose production line has been halted.
Darren goes on to add, we like a challenge, we like to solve adhesive problems and we have solved many "sticky" problems.  If you have an adhesive problem  – challenge us!  Even if the adhesive solution is not within our remit, we will guide you in the right direction.  Customer service is a priority; when we solve a problem, even if we have to refer the customer to another supplier, a solution has been offered and the majority of the time customers remember the time and effort we put in to find the answer.  Let the customer down and they will not forget!
Call: 0161 627 1001
Mobile: 07989 337891