Loctite HY 4090 Hybrid adhesive combine strength and speed to deliver bonding that outperforms!
Henkel Loctite have introduced Loctite HY 4090 Universal Structural Bonder, innovative adhesive powered by a patented Hybrid technology that combines the most critical attributes of structural and instant adhesives – bond strength, speed and durability. This powerful combination provides improved performance on a variety of substrates, and the versatility to solve a wide range of design and assembly challenges – what can you glue with Loctite HY 4090?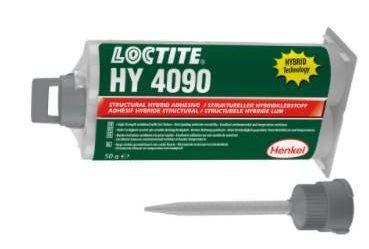 Create Limitless Possibilities for Design and Assembly 
Designed to deliver excellent performance with multiple substrates, from extreme temperatures to high vibration, Loctite HY 4090 Universal Structural Bonder greatly expand the capabilities of traditional adhesives and offer versatile solutions for challenging applications.
This innovative adhesive create opportunities for designers and OEM engineers looking for ways to improve assembly applications, streamline process steps or bond materials in applications with difficult requirements. Loctite HY 4090 Universal Structural Bonders is designed to reach beyond conventional approaches and help overcome costly challenges.
Loctite HY 4090 offers fast fixture time, substrate versatility, excellent durability and enhanced safety. Its well-balanced properties make it ideal for a wide range of uses, including but not limited to, sign bonding, sealing and bonding of LED lighting fixtures and speaker applications.
Loctite HY 4090 offers good moisture, temperature and chemical resistance, is impact and vibration resistant, and can be used for cold-temperature applications. This product is available in easy-to-use 50 ml syringes and in 400 ml cartridges.