Arrange a demonstration today and see what you can glue with probably the most powerful glue gun available, 1000 watt, pneumatic with speed loader!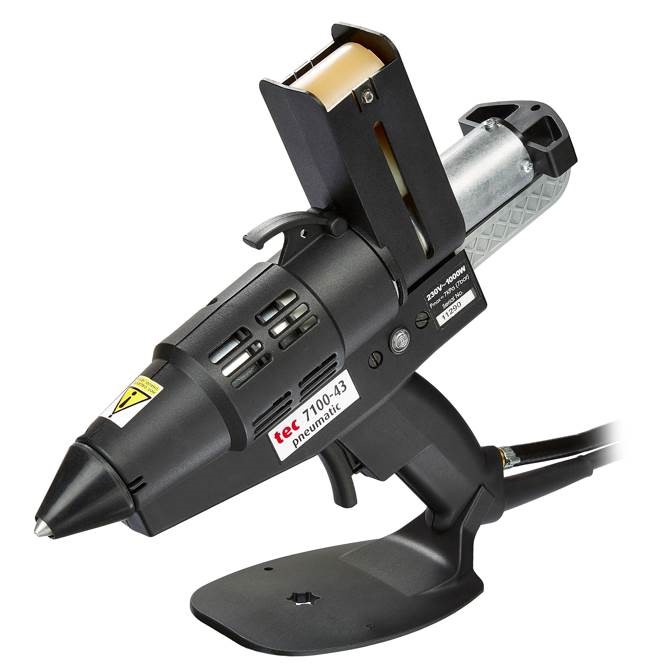 Tec 7100 glue gun, designed and manufactured in Britain! Arrange a demonstration call: 0161 627 1001
TEC 7100 is powerful pneumatic hot melt applicator developed for demanding applications where you need volume glue, fast! Tec 7100 is probably one of the world's highest-output hand-held hot melt applicators, the TEC 7100 is a serious alternative to bulk tank hot melt systems at a fraction of the cost. (Spray version available for covering large areas – Tec 7300)
Built to a very high standard in Britain, the TEC 7100 is totally self-contained. The most unique feature on this tool is the built-in speed loader, which holds an extra two 43mm glue cartridges in reserve this enables the user to re-load in seconds whilst continuing to use the tool. Due to the advanced heater housing design and the powerful dual 500 watt heaters, the TEC 7100 is able to dispense up to 5 kilos of molten hot melt per hour.
Operating temperature is obtained in only 5 minutes from cold via one of the 500 watt cartridge heaters, when the trigger is pulled for use, the second 500 watt heater comes into operation and enables the molten adhesive to be dispensed at a constant temperature.
Arrange a demonstration today, call: 0161 627 1001 or email: sales@gluegunsdirect.com
Visit: www.gluegunsdirect.com – proud to support Guide Dogs