Tecbond adhesives – did you know we make glue sticks formulations in bulk formats for tank systems?
Tecbond hot melt adhesives are also supplied in Pastilles, Pillow, Slats and Eco-Blocks for use in bulk dispensing equipment such as Nordson DuraBlue systems  or the Tec 4500 Pneumatic Glue Guns for demanding or continuous gluing applications
Tecbond bulk hot melt adhesives covering Packaging, Woodworking, Product Assembly. Electronic, Insulation, Mattress and Construction applications wide range of gluing possibilities, it's not surprising we like to say "What can we GLUE for you ?"
We can offer any of our standard Tecbond glue sticks in a bulk format 
Advantages of Tecbond Hot Melt Adhesives:
Hot melts are used completely in the bond: there is no solvent, water or other chemicals that need to be packaged, transported, and then are released as the adhesive sets
There's no waste: any unused adhesive in application equipment is simply remelted when the equipment is turned back on
There is no waste from mixing or expensive packaging such as aerosols, tins, and plastic containers
Hot melt adhesives have no shelf life, so can be stored cleanly for long periods without risk of expiry
Spray hot melt systems do not require solvent and do not go airborne, reducing the need for PPE and the likelihood workplace mess
Since the setting time for hot melt is almost instant, no drying rooms or additional storage is required; saving time, space and energy
Many of our adhesive formulations are based on fully renewable resources
Tecbond packaging is easy-to-recycle cardboard cartons (packaging is also made from recycled materials wherever possible)
Tecbond adhesive range is made in Basildon, stocked in Oldham for next day delivery!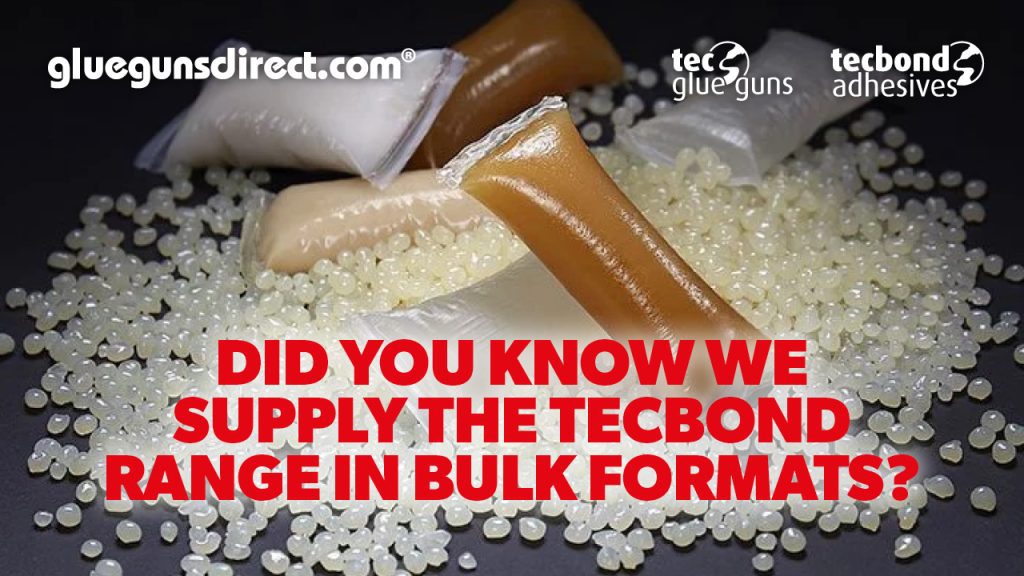 Have an adhesive problem, don't come unstuck – call Steve and see what we can glue for you – 07960 047020 or email: stevemorrow@gluegunsdirect.com
www.gluegunsdirect.com – proud to support Guide Dogs and keeping Britain bonded since 1979
#Tecbond #glueguns #hotmeltadhesives #pneumaticglueguns #powerfulglueguns #madeinbritain #bulkhotmeltadhesives #12mmgluesticks #15mmgluesticks #43mmglueslugs