3D lamination, or membrane pressing as it is also known, is, in short, a manufacturing process that involves wrapping a vinyl decorative foil around fibre board, MDF (medium density fibreboard).  The MDF is sprayed with a Aquence PU (polyurethane) dispersion adhesive then allowed to dry. A decorative foil is placed over the MDF before it is put through a press, which is heated to a specific temperature to reactivate the glue and pressure added to produce the finished product.
This process is especially popular in the manufacture of kitchens, with the use of high gloss foils producing a gleaming upmarket finish, which is easy to clean and maintain. It is also popular for bedroom and bathroom furniture manufacture.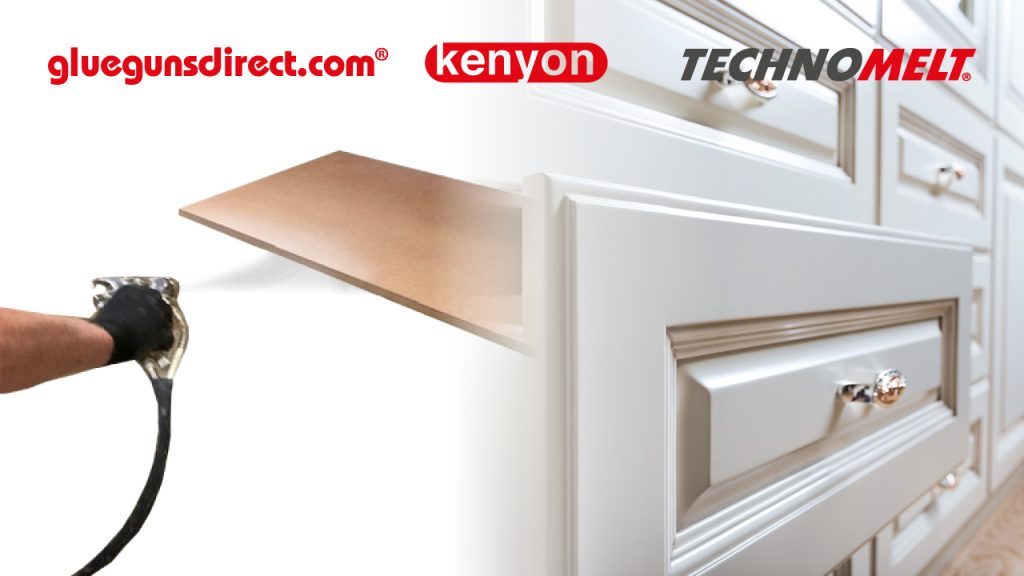 Henkel Aquence reactive water-based PU adhesive, formulated and used for the laminating of thermoplastic films onto wood-based fibre board (MDF). Supplied as a one-component (1C) Aquence FD 150/6, which contains a crosslinker, and a two-component (2C) Aquence FD 151, which requires a crosslinker adding separately.
We are Henkel's Premium Partner; all adhesives are stocked in Oldham for delivery across the UK when the customer needs it!
Let's talk PU adhesives and how Henkel's Aquence can improve your production:
South of England – Call Steve Morrow 07960 047020 or email: stevemorrow@kenyon-group.co.uk
North of England – Call James Hamilton 07807 107309 or email: jameshamilton@kenyon-group.co.uk
www.kenyon-group.co.uk – Keeping Britain Bonded Since 1979
#Henkel #Aquence #3Dlamination #membranepress #PUadhesive #kitchencabinets #bathroomfurniture #bedroom #furniture #woodworking