Materials used to make coffins and office seating are bonded with Spraytec Tecbond 430 sprayable hot melt adhesive.
Spraytec Tecbond 430 hot melt adhesive, unique adhesive that has been formulated to maximise the glue delivery rate. Spraytec Tecbond 430 is a very versatile spray adhesive that has been designed for fast, clean and reliable running applied via the powerful Tec 7300 swirl glue gun.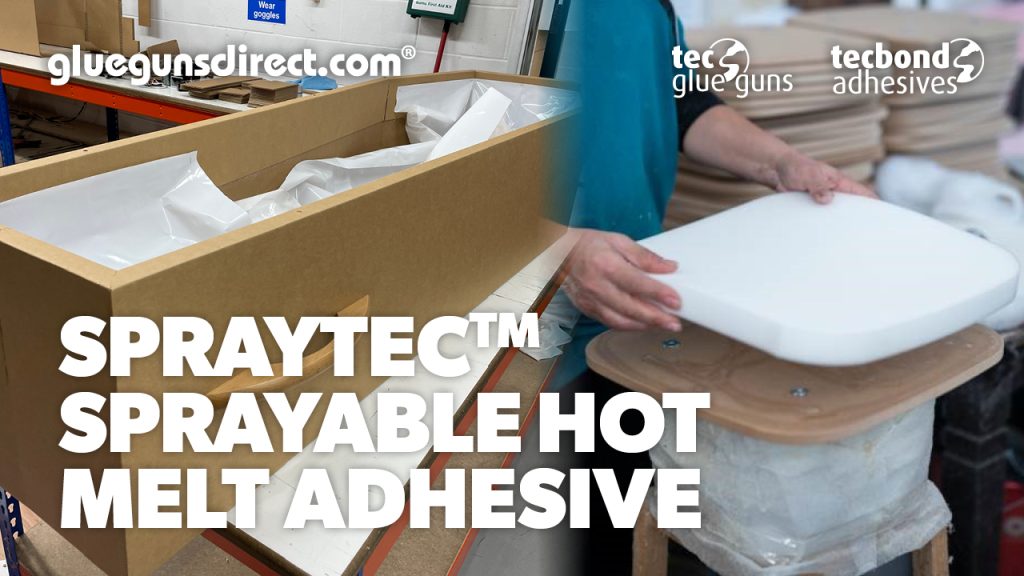 Spraytec Tecbond 430 offers an extended 6-minute open time allowing large areas to be covered precisely and quickly. Suitable for bonding many different types of fabrics, inner linings, braided trim, and upholstery foams to wood, cardboard, plastics including polypropylene.
Spraytec is safe (solvent-free) and easy to use, user friendly and does not require masks, extraction or other protective clothing as the adhesive goes only where it is required.
Made in Basildon, stocked in Oldham and supplied across the UK when the customer needs delivery!
What can you glue with Spraytec arrange a demonstration, and challenge our team:
South of England – Call Steve Morrow 07960 047020 or email: stevemorrow@gluegunsdirect.com
North of England – Call James Hamilton 07807 107309 or email: jameshamilton@gluegunsdirect.com
www.gluegunsdirect.com – Keeping Britain bonded since 1979 and proudly supporting Guide Dogs
#Tecbond #glueguns #43mmglueslugs #adhesives #manufacturing #industry #trade #Spraytec #hotmeltadhesive #madeinbritain