It's time to step up to the awesome power of the Tec 7100 pneumatic glue gun and support British manufacturing setting the highest standards in glue gun technology!
Once tried, you will not want to stop gluing with the Tec 7100. Try for yourself, and create the best bonds with Tecbond, arrange a demonstration today and see what you can glue.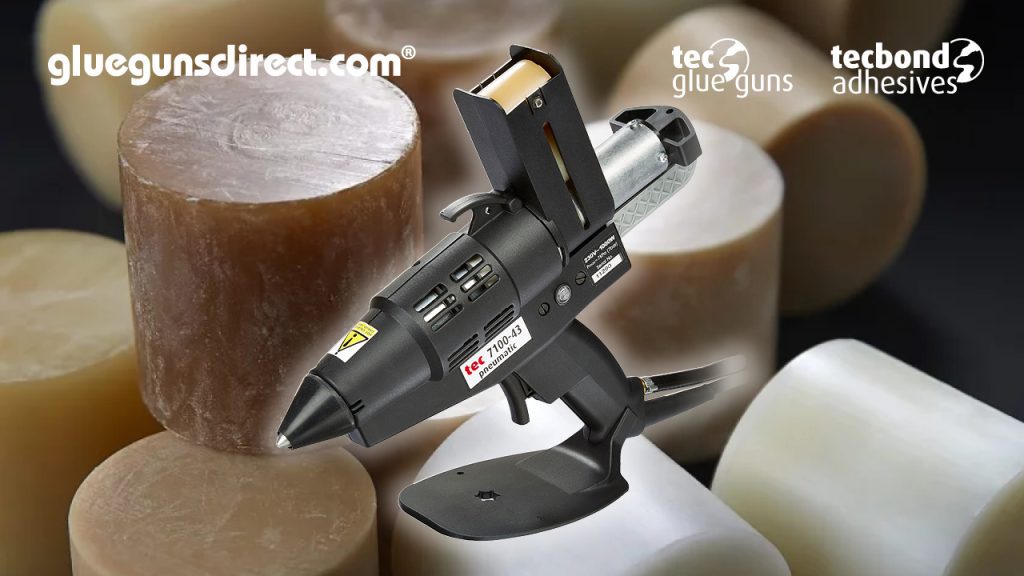 Did you know: You can trade in your old, broken or whatever condition glue gun for a new Tec 7100 with a 12-month warranty at a discounted priced?
We are the complete adhesive package, call our team:
South of England – Call Steve Morrow 07960 047020 or email: stevemorrow@gluegunsdirect.com
North of England – Call James Hamilton 07807 107309 or email: jameshamilton@gluegunsdirect.com
Tec 7100 glue gun and Tecbond 43mm hot melt adhesives are made in Basildon, stocked in Oldham for delivery across the UK when the customer needs the adhesive.
www.gluegunsdirect.com – Keeping Britain bonded since 1979 and proudly supporting Guide Dogs
#buyBritish #supportBritishmanufacturing #madeinBasildon #stockedinOldham #12monthwarranty #43mmglueguns #Tecglueguns #Tecbondadhesives #43mmglueslugs #pnuematicgluegun #speedloader
Q: Is the Tec 7100 a powerful glue gun?
A: The Tec 7100 is probably the most powerful hand held glue gun available. Advanced heater housing design coupled with powerful dual 500 watt heaters, the TEC 7100 is able to dispense up to 5 kilos of molten hot melt per hour.
Q: What type of adhesive is used with the Tec 7100?
A: Tecbond 43mm glue formulation have a unique size specification to allow for the different rates of expansion the different formulations have. It is not the case of one size fits all ! Tecbond 43mm glue slugs are designed for the smooth running with the Tec 7100 glue gun.