That was the challenge put to our sales team by Garland Products Ltd.
Garland Products is the company's garden product division. The company also operates an industrial moulding division, operating as Glendenning Plastics Ltd supplying a wide variety of plastic parts to a diverse customer base.
Customers application was to securely hold the A4 product guide to the recycled styrene tray. A secure bond was required for transport and handling, yet the guide must be easy to remove by the end user.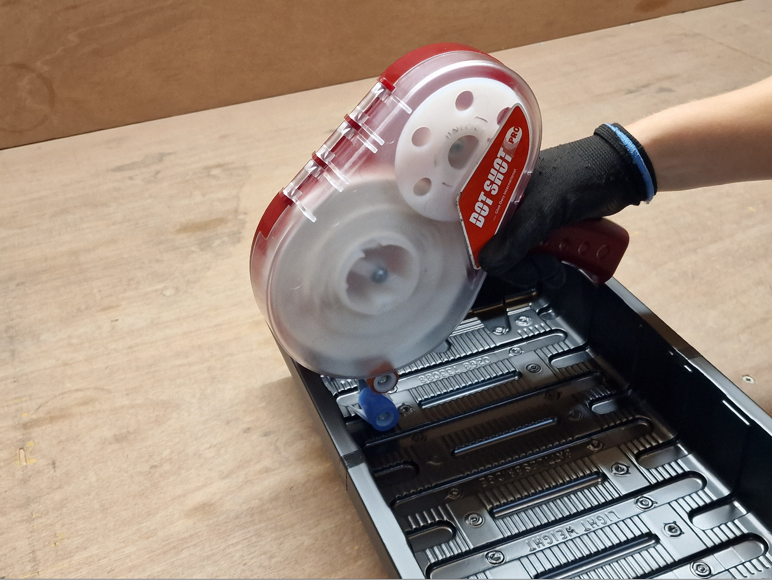 Answer, DOT SHOT™ PRO & High Tack Refills, designed to aligned items and secure by forming a strong instant bond to nearly any surface in most environments, in this case the recycled Styrene tray. DSP High Tack refills leave no mess, residue, or odour, presenting the product and preserving the brand, while increasing productivity and reducing costs.
Two glue dots per tray as marked by the red arrows gave an invisible solution with visible results.
 View our Glue Dot Pro Range: Click here
 Don't come unstuck, challenge our team:
South of England – Call Steve Morrow 07960 047020 or email: stevemorrow@gluegunsdirect.com
North of England – Call James Hamilton 07807 107309 or email: jameshamilton@gluegunsdirect.com
www.gluegunsdirect.com – proud to support Guide Dogs
#gluedots #removeableglue #dotshotpro #peelableglue #hightackgluedots