Enhanced Homes had been using a self-adhesive foam for corner protection on boxes. The foam caused issues as it did not stick well, so they had to shrink wrap the box after the foam was applied creating a double process. The foam also causes issues with recycling the boxes with the customer as the foam had to be separated from the box.
Customer had crash lock cardboard corners made and we stepped in with Tecbond 134-43 hot melt adhesive applied via a Tec 6100 pneumatic glue gun for effortless gluing to bond the corners.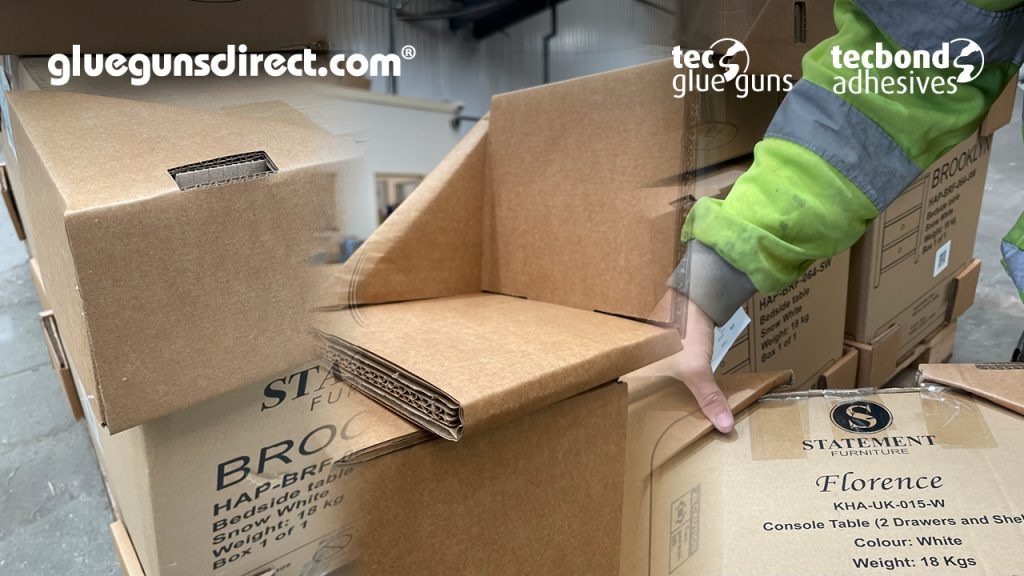 Using hot melt adhesive reduced packing time hugely with 8 corners being applied in under 2 minutes. There is also the added bonus with the corners made from heavy duty board, the corners doubled up as handles. Tecbond 134-43 created such a strong bond the boxes can be lifted by these corners and stacked easily.
Don't forget, Tecbond 134 hot melt adhesive is formulated using a minimum of 40% Bio Based raw materials! Be kinder to the planet.
Challenge our team and see what we can glue for you:
South of England – Call Steve Morrow 07960 047020 or email: stevemorrow@gluegunsdirect.com
North of England – Call James Hamilton 07807 107309 or email: jameshamilton@gluegunsdirect.com
www.gluegunsdirect.com – proud to support Guide Dogs
#Tecbond #manufacturing #gluesticks #glueguns #madeinBritain #problemsolvingadhesives #tecbond134 #protectivepackaging #heavydutyboard