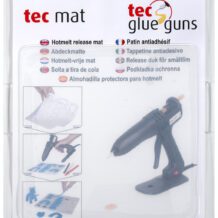 TEC MAT Silicone Drip Mat
Keep clean and protect your work surface
The TEC MAT silicone rubber drip mat can be used underneath a gun to help keep clean and protect the work...
Showing the single result
We have a broad range of nozzles available for the Tec 250 glue guns for specific purposes and to accelerate glue application. These include multiple hole, spreaders, extensions, and special nozzles for closing cartons. We have everything you need.