Loctite Activators and Primers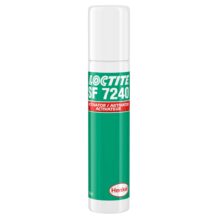 Loctite SF 7240 Anaerobic Activator
LOCTITE® SF 7240™ is designed to promote the curing speed of LOCTITE® anaerobic adhesives and sealants, without significant loss of joint strength
Surface Preparation - activator. Solvent-free. Low temperature curing. LOCTITE® SF 7240 is des...
Showing all 5 results
Industrial Markets
LOCTITE® is the trusted choice for high-performance adhesive, sealant and coating solutions for manufacturing segments across the globe. LOCTITE® products are used in objects that touch lives every day from aircrafts to furniture. Our experts are dedicated to optimising processes, driving costs down by developing products that improve performance, and understanding every challenge in every market of our valued customers.
LOCTITE® is the world's leading brand for adhesives, sealants and surface treatments. With breakthrough technology, we provide solutions that deliver on our goals providing more efficient adhesives that are durable, strong and long lasting to unlock the limitless potential of man and machine. Learn more about our expansive product portfolio for the most demanding industry applications.