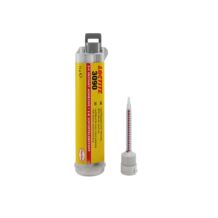 Loctite 3090 Two Component Gel
LOCTITE® 3090™ is a two component, fast curing, gap filling adhesive with excellent bonding characteristics to a variety of substrates including plastics, rubbers and metals
Instant Adhesive - 2-component. Multi-purpose. High gap-filling capacity (5mm). For professional repairs....
Showing 1–10 of 13 results
Can't find the Loctite product required?
Please call 0161 627 1001 or email: sales@gluegunsdirect.com for further assistance
Keeping you gluing with Loctite!
Using Instant Adhesives
Instant adhesives (also known as cyanoacrylates) are easy to use, whether integrated into an automated production line, or in the workshop. They cure at room temperature, are typically single component, and are available in different viscosities to fit your exact requirements.
Henkel offers a wide selection of instant adhesive dispensing equipment and can also design and build dispensing tools to fit customer specifications.
Two-Part Cyanoacrylate Adhesive
Innovative two-part cyanoacrylate adhesives bring a greater level of control to both manual and automated processes, allowing you to mix the adhesive for curing. Available in a range of viscosities to suit your specific application, the LOCTITE® range of two-part cyanoacrylate adhesives is ideal for gap gilling applications when bonding plastics, rubbers, wood, paper and metals. Additionally, high-precision dispensing tips provide even greater accuracy in application while fix times as low as 15 seconds prevent sagging.
Instant Adhesive Gel
Instant adhesive gels are high viscosity solutions that provide greater control over adhesion where sagging or dripping may be an issue—in particular, on vertical surfaces or within gap filling applications. Available in low odor/low bloom and toughened/impact resistant formulas, the LOCTITE® range of instant adhesive gels are suitable for most materials where the adhesive needs to maintain shape during curing and fixing.
Instant Bond Adhesives
Instant bond adhesives (flashcure) provide the fastest curing and fixing times of all CA adhesives. With fix times of less than five seconds, near-instant bonding can be achieved through UV curing in applications where light can penetrate, but also in dark areas through conventional CA moisture curing. Additionally, CA accelerators can be used with premium CAs, either pre- or post-application, to further decrease curing and fixing times. Instant bond adhesives are the ideal choice for any application where materials need to be bonding quickly without compromising on strength, impact resistance or flexibility.
Instant Adhesive Applications
There are many applications for instant adhesives, and they are used within almost all industries—from medical to automotive. This is because they can be adapted to a broad range of materials while still offering high-strength and flexibility under a range of conditions. For more information on the most common materials that are bonded using CA adhesives, read on:
Adhesives for Rubbing Bonding
Dedicated rubber bonding adhesives meet the many challenges associated with rubber to rubber bonding. Designed to bond nitrile, butyl, polyurethane, silicone, EPDM, and natural rubbers quickly and securely, rubber bonding adhesives deliver fast curing times alongside flexibility once fixed to prevent cracking or splitting. They are also highly durable across a range of applications, making them ideal for general maintenance and repair.
Adhesives for Plastic Bonding
Suitable for a broad range of plastics, including hard-to-bond surfaces such as polypropylene and polyethylene, instant adhesives for plastics provide fast, strong, and flexible joining solutions in many industries. Including gap filling formulas alongside two-part plastic adhesives, the range of plastic bonding solutions is designed to meet the demands of manufacturers reliance on plastic components.
Adhesives for Metal Bonding
Instant adhesives for metals are ideal for joining or repairing mechanical parts, components, small appliances, and many other metallic items. Fast curing times are critical within metal bonding applications, and weather and moisture resistance in demanding environments is also important for manufactures that require durable bonding. Instant adhesives for metals also do not require clamping in order to join materials, ensuring fast bonding with minimal fuss.