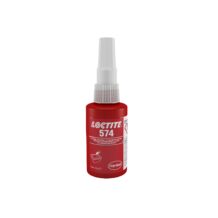 Loctite 574 Multi Gasket Medium Strength
LOCTITE® 574™ seals close fitting joints between rigid metal faces and flanges. Provides resistance to low pressures immediately after assembly of flanges
Gasketing Product - general purpose. Ideal for use on machined and rigid metal flanges LOCTITE® 574 seal...
Showing the single result
Can't find the Loctite product required?
Please call 0161 627 1001 or email: sales@gluegunsdirect.com for further assistance
Keeping you gluing with Loctite!
Anaerobic Adhesives
Our anaerobic adhesive and sealants are some of our most used products and are available for a wide range of applications. Anaerobic adhesives work by completely filling gaps between components. They are typically used to augment the seal or holding force of a mechanically joined assembly.
Anaerobic adhesives remain liquid until isolated from oxygen in the presence of metal ions. Though anaerobic applications differ widely, in most cases the adhesive provides high shear strength and temperature resistance. Anaerobic adhesive compounds fixture in minutes at room temperature and fully cure within 24 hours. Full cure of anaerobics may be achieved more rapidly using short-term exposure to heat (e.g. 30 minutes at 120°C).
LOCTITE® anaerobic adhesives include threadlockers, thread sealants, retaining compounds, and gasket sealants.