Loctite Structural Adhesives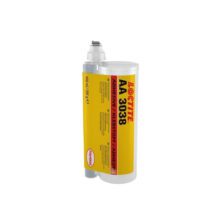 Loctite AA 3038 Polypropylene Bonding Adhesive
LOCTITE® AA 3038™ is designed primarily to bond e-coated metals (ECS) to glass fibre filled polypropylenes (PPGF) but can also be used on other low energy substrates such as LDPE and HDPE
Yellow, pre-mix polyolefin structural bonder which has good impact resistance with good adhesion to polyo...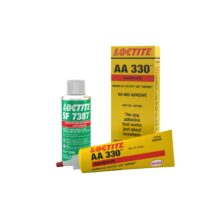 Loctite AA 330 Multibond Kit Adh & Act
LOCTITE® AA 330 is a general purpose adhesive that is used to bond metal, wood, ferrite, ceramic and plastic materials. Applications include tool handles, appliances, sporting goods and decorative trim.
LOCTITE AA 330 is a pale-yellow, general purpose structural bonder that is ideal for bonding dissimilar s...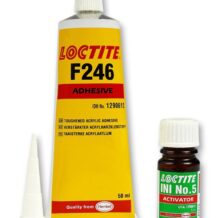 Loctite AA F246 & Initiator Toughened Acrylic Kit
LOCTITE® AA F246™ is a two component toughened acrylic adhesive system for high strength structural bonding. It cures rapidly at room temperature on assembly of the joint.
2-part "no-mix" structural acrylic adhesive which cures rapidly at room temperature. It must be used with...
Showing all 3 results
Can't find the Loctite product required?
Please call 0161 627 1001 or email: sales@gluegunsdirect.com for further assistance
Keeping you gluing with Loctite!
LOCTITE® structural adhesives are available in easy-to-use packages for hand-held, manual, and semi-automated applications, including cartridges, syringes, soft-squeeze bottles and dual cartridges for two-part formulations. LOCTITE® structural adhesives are also offered in larger packages such as 20 litre or 200 litre for high-volume dispensing and automated assembly operations.
They're formulated to meet the rising demands in assembly design and maintenance repair for:
High performance structural bonding
Multi-surface structural bonding
Dissimilar substrate structural bonding
Low hazard structural adhesives
Structural Adhesives Chemistries
There are many types of structural adhesives currently available that fulfil a broad range of industrial and commercial design needs. Each offers distinct advantages, allowing you to tailor your choice of adhesive according to how its features meet the demands of your specific application. Both our LOCTITE® and TEROSON® brands are made specifically to ensure flexibility and adaptability to a broad range of applications, which each product suitable for bonding substrates, including dissimilar substrates, with specific characteristics that target your needs. Read on to learn more about the types of structural adhesive available
Epoxy Structural Adhesive
Epoxy structural adhesives are among the most versatile, bonding easily to many substrates and offering a wide range of properties that ensure excellent shear strength in permanent bonding applications. Additionally, high thermal and chemical resistance alongside minimal shrinkage and cohesive strength mean epoxy structural adhesives are used extensively for automotive, industrial, and aerospace applications. However, there application is not limited to these industries alone, and all types of manufacturing process can benefit from a high-quality epoxy structural adhesive.
Acrylic Adhesives for Structural Bonding
Acrylic adhesives for structural bonding are specially designed for long-term bonding on virtually all surfaces. Henkel offers a line of acrylic adhesives suitable to multi-substrate structural bonding. These acrylic adhesives can be cured at room temperature or with heat. These adhesives generally replace the need for welding or riveting which lowers overall costs.
Strengths:
Enables structural flexibility without affecting bond strength as the adhesive allows movement for thermal expansion
Accommodating to temperature changes without passing stress to the structure
High impact resistance/ toughness due to ability to absorb energy
Great fracture toughness
Lower costs as compared to acrylic adhesives (depending on production factors)
Weaknesses:
Requires good surface finish to prevent delamination in moist environments
Has lower strength per unit area, but in most cases exceeds what is required for joints
Polyurethane Adhesives for Structural bonding
Polyurethane structural adhesives bond a variety of different substrates such as plastic, metal, and wood. They have strong resistance to humidity and other environmental factors and are known for their cohesive strength and flexibility in use. Henkel offers both one and two-part systems to fit different manufacturing lines.
Two-Part Structural Adhesive
Many types of structural adhesive offer 2-part application and a broad range of cure speeds. Suitable for bonding all types of substrates, these versatile and flexible solutions allow for greater control during the application process. In essence, 2-part structural adhesives allow for room temperature curing either manually or through the use of applicator nozzles in automated processes. This means safer and more efficient bonding while improving accuracy and aesthetics both during and after application.
Industrial Applications for Structural Adhesives
Most commonly used within automotive, aerospace, electronics, construction, engineered wood, medical, and consumer industries, structural adhesives are well suited to an extremely broad range of applications. They are used for applications concerning magnet bonding, metal bonding, multiple surface bonding, NVH – noise, vibration, and harshness reduction, plastic and composite bonding, and potting and encapsulating, among many other applications.
Structural Adhesives for Metal and Plastic Bonding
High-strength, lightweight structural adhesive metal bonding formulas make all the difference in applications where metal substrates and components must be assembled. Epoxy structural adhesives are very often used with applications where metal bonding is required, although anaerobic and acrylic adhesives may also be used. Improving process efficiency in both new and established designs remains a challenge for manufacturers, and Henkel's range of structural adhesive metal bonding products promote efficiency and cost-savings without compromising on strength, impact resistance, or aesthetics.
Acrylic and polyurethane adhesives are also commonly used for plastic and multi-substrate bonding. This makes them particularly well-suited for a wide variety of different plastic substrate bonding where high-strength hold is required in addition to resistance from humidity and environmental factors.