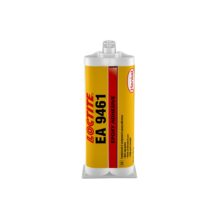 Loctite EA 9461 A&B (1:1) Dual Cartridge
The tough nature of this structural adhesive makes it useful for bonding dissimilar substrates including metals, engineering thermoplastics and thermoset laminates such as sheet moulding compound (SMC).
2-part, thixotropic, structural bonding epoxy adhesive that cures to provide a toughened bond and is therefo...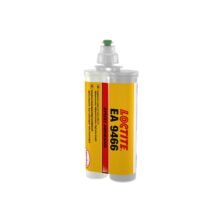 Loctite EA 9466 A&B (2:1) Dual Cartridge
LOCTITE® EA 9466™ provides excellent bond strengths to a wide variety of plastics and metals. Typical applications include general purpose industrial applications requiring extended work life for adjusting parts during assembly
2-part, multi-purpose, toughened, structural bonding epoxy adhesive for applications needing a long open tim...
Showing all 2 results
Why use a toughened epoxy vs a standard epoxy?
Standard epoxy adhesives can have too high of a hardness and can be too rigid or brittle for many applications. This can be due to dissimilar bonding substrates or large temperature ranges. Standard epoxies tend to crack or even delaminate under adverse conditions. Toughened epoxies are formulated to be flexible, offer high strength, crack resistant adhesive with good chemical and moisture resistance.
Where would you use a toughened epoxy adhesive?
Most commonly used within automotive, aerospace, electronics, construction, and manufacturing industries. Toughened epoxy structural adhesives are used for applications including magnet bonding, metal bonding, multiple surface bonding, NVH – noise, vibration, and harshness reduction, plastic and composite bonding, and potting and encapsulating, among many other applications.
Best toughened epoxy adhesive for bonding aluminium
LOCTITE® EA 9461 2-component adhesive. Aluminium provides its own set of challenges, and proper preparation to remove oxide build-up before application is key. most LOCTITE® EA 9461 ensures strong bonds and impact resistance for a range of aluminium alloys. The adhesives thixotropic properties make it good for gap filling and it provides both high peel and shear strength.
Larger pack sizes for volume gluing?
Loctite toughened epoxy adhesives are supplied in convenient 50ml cartridges, which on the whole meet the requirements for many assembly manufacturing applications. However, larger packages such as 20 litre or 200 litre for high-volume dispensing and automated assembly operations. Call our sales office 0161 627 1001 for more details
Other types of epoxy adhesives
Loctite have a comprehensive range of epoxy adhesives to meet every challenging application, from 5 minute epoxies to High Temperature epoxies, Loctite have your application glued – permanently!
Which toughened epoxy is the strongest?
Loctite Toughened epoxy adhesives are ideal for bonding dissimilar substrates. Which one is the general consider the best, answer – LOCTITE® EA 9461 – best for bonding dissimilar substrates including metals, engineering thermoplastics and thermoset laminates such as sheet moulding compound (SMC). High performance structural bonding. Multi-surface structural bonding. Dissimilar substrate structural bonding.
Why buy from gluegunsdirect.com?
With over 40 years of gluing knowledge and experience we are challenged on a daily basis to find the answer to various adhesive problems and new applications. You will be amazed at what we have been asked to bond and the majority of the time we have surprised ourselves by providing the answer to some very difficult adhesive problems. Gluegunsdirect.com offer a comprehensive range of market leading adhesives technologies, technical support and training, UK stock holding across three warehouses and delivery when the customer needs it. We are the complete adhesive package!
Can't find the Loctite product required?
Please call 0161 627 1001 or email: sales@gluegunsdirect.com for further assistance
Keeping you gluing with Loctite!
Epoxy Structural Adhesive
Epoxy structural adhesives are among the most versatile, bonding easily to many substrates and offering a wide range of properties that ensure excellent shear strength in permanent bonding applications. Additionally, high thermal and chemical resistance alongside minimal shrinkage and cohesive strength mean epoxy structural adhesives are used extensively for automotive, industrial, and aerospace applications. However, there application is not limited to these industries alone, and all types of manufacturing process can benefit from a high-quality epoxy structural adhesive.