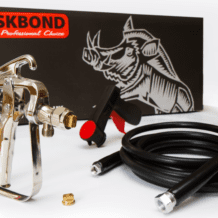 £

250.60
(inc. VAT £300.72)
Showing 1–10 of 35 results
Why Tuskbond products are the way to go….
Why use Tuskbond as opposed to competitor products? Good question, there's a number of reasons why you should trust Tuskbond:
Tuskbond were founded in 2003 which means we're celebrating our 18th year within the industry.
Tuskbond understand you need adhesives that are fast, accurate and portable ensuring you get the job done properly and efficiently – so that's what all the Tuskbond products do.
Unlike the competitors, all Tuskbond adhesives are made using original formulations at the dedicated Tuskbond mixing plant in Nottinghamshire. Tuskbond are incredibly proud that they are able to manufacture their own adhesives, ensuring they have full control over the final products from beginning to end. You ONLY receive the very best.
Tuskbond monitor the development of all their products from the ideas stage, right through to the manufacturing and filling of products, selecting only the very best raw materials.
Tuskbond are proud to be versatile – they have adhesives suitable for use in a wide range of industries including: roofing, infusion, flooring, upholstery, joinery and construction.
The products themselves – Tuskbond adhesives provide excellent coverage and can be used on a variety of surfaces to insulate it from moisture. Whether you're securing a carpet tile in place or installing insulation. Finding quality adhesives that provide a super-strong bond is no easy task but Tuskbond have you covered.
Tuskbond non-chlorinated adhesives are designed with the latest solvent technology to reduce toxicity and health hazards.
Kenyon's are proud to be UK distributors for the full Tuskbond range – have a gluing problem, don't come unstuck – call: 0161 627 1001 or email: sales@gluegunsdirect.com