We have a wide range of nozzles for the Tec 305, Tec 805, Tec 810 and Tec 820 glue guns, for specialized needs and to speed up glue application.
These include extension nozzles for delicate work, multiple hole, spreaders and special nozzles for carton closing. Now we see the introduction of the MDJ019 Spreader Nozzle and MDJ021 Precision Extension Nozzle designed to make gluing easier.
We have your needs covered. What can we

GLUE

for you !
MDJ021 Precision Extension Nozzle
2mm orifice nozzle with a 20mm extension for precision gluing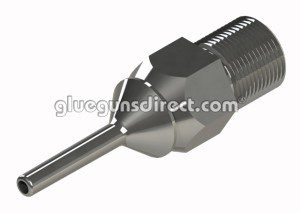 MDJ019 Spreader Nozzle
6mm wide spread of adhesive, 12mm extension nozzle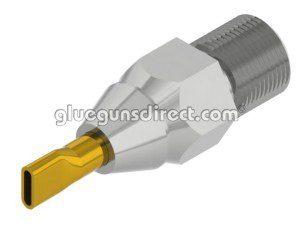 Click here to view the full range of nozzles for the Tec 305, Tec 805, Tec 810 and Tec 820 glue guns
Links:
12mm range of Tecbond Glue Sticks
15mm range of Tecbond Glue Sticks