Tecbond 345 Metallocene adhesive, the old saying "less is more" is true.
Tecbond 345 metallocene based hot melt adhesive is less dense so the same volume of adhesive will weigh less when compared to standard EVA packaging adhesives. This adhesive has high tack and excellent strength giving fibre tear of most common types of paper and boards.
The low viscosity of this product helps prevent stringing, improves glue gun output and ensures bonds are made with the minimum gap between surfaces without compromising strength. Tecbond 345 offers high output, and is a very fast setting adhesive based on the latest metallocene catalysed polyolefin elastomers giving exceptionally high instant grab and making it very versatile with excellent adhesion to difficult boards.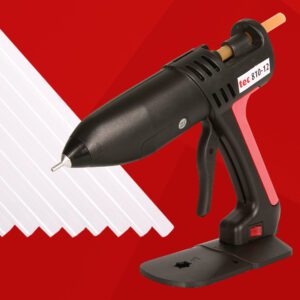 More mileage vs EVA up to 40% reduction
Excellent hot and cold temperatures resistance
Reduced charring
Less is more
Excellent mileage