Everbuild Mitre Fast – Instant bonding mitre adhesive
Instant bonding with Mitre Fast cyanoacrylate adhesive and aerosol activator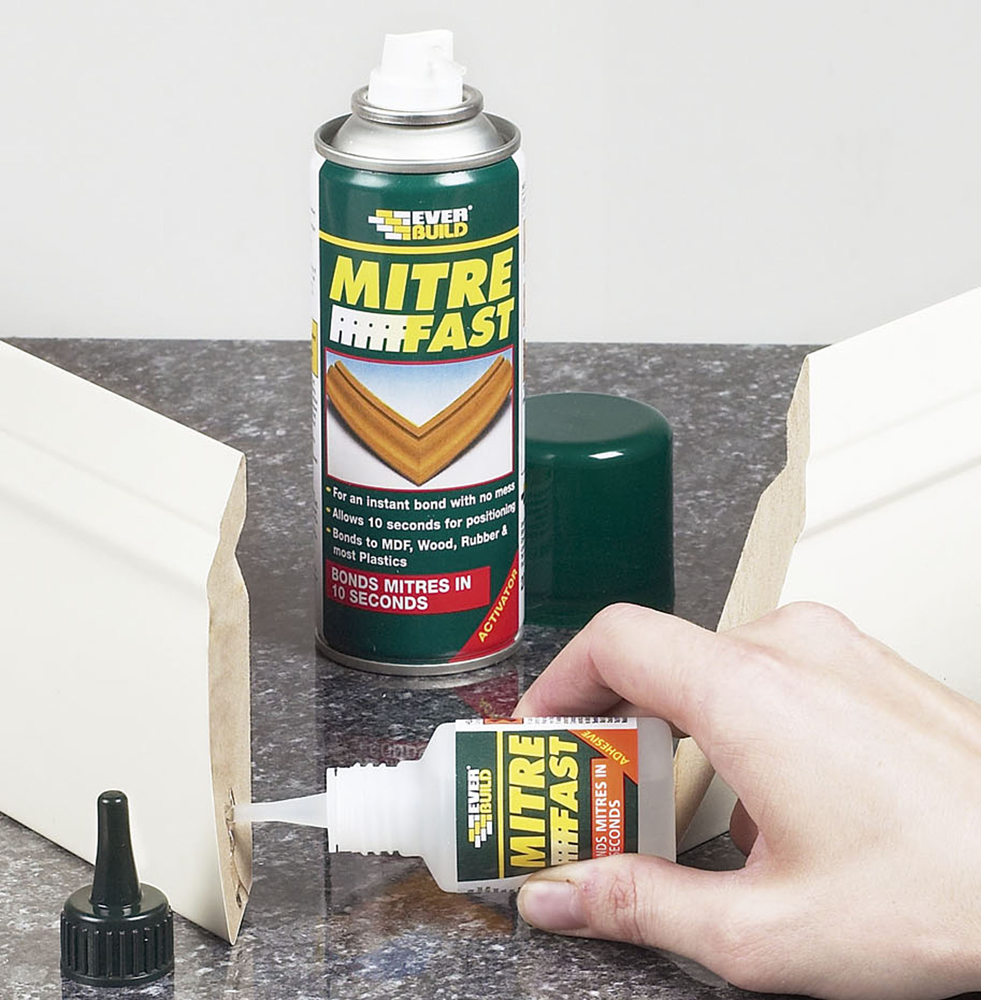 Mitre Fast Bonding Kit is a two-part instant adhesive system comprising a cyanoacrylate adhesive and aerosol activator. Mitre Fast is mainly used in the furniture, timber, kitchen and plastics industries where its instant bonding properties dramatically reduce assembly times for mitre joints when compared to conventional wood adhesives. Also suitable for bonding of MDF, rubber, PVCu, metals etc.
USES
Multitude of industrial applications: Bonds MDF, wood, chipboard, rubber, plastics, Perspex, uPVC ceramics, aluminium and metals. Ideal for all cornice and profile mitres, trims, picture frames, MDF, skirting and architrave joints, worktop end strips, PVCu trims and much more. It is particularly useful for production lines such as electronics assembly and uPVC window trim bonding.
Flash setting formulation – bonds most surfaces within 10 seconds, cutting down dramatically mitre assembly bonding times when compared to conventional wood adhesives.
▪ High viscosity adhesive – low soak in to give greater bond strength than conventional cyanoacrylates on
porous surfaces (eg wood)
▪ Gap filling – high viscosity adhesive will fill small gaps in mitres etc (up to 0.2mm)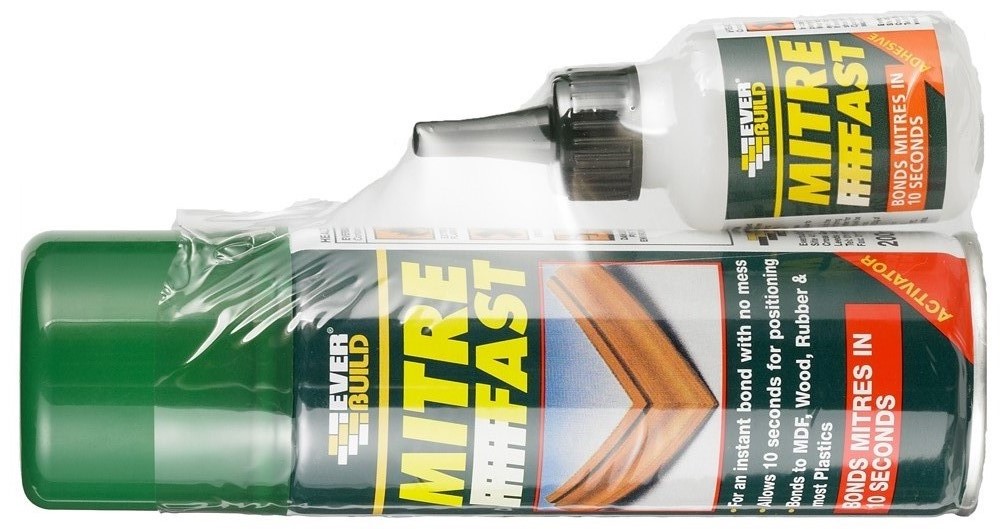 APPLICATION INSTRUCTIONS
SUBSTRATE PREPARATION
The surfaces to be glued should be clean, dry and free from dust, grease and other contaminants. Materials should be stored in a warm environment prior to bonding to avoid chilling of the glue line, which leads to extended setting times. Where possible, ensure working environment has a relative humidity of +50%.
APPLICATION METHOD / TOOLS
▪    Spray one surface with activator.
▪    Apply adhesive sparingly to other surface.
Bring together, position and hold for about 10 seconds.