Glue Stick Applications
We are the adhesive experts!
Adhesive for Filter Manufacturing and Filter Assembly
From air filters to fuel filters, we have proven adhesives for all your filtration applications.
The filter market is complexed, and the adhesive supplier needs to understand the challenges and the manufacturing processes. As filter technology changes, materials and processes change to meet the demands and adhesives must be one step ahead offering creative solutions and solving gluing problems.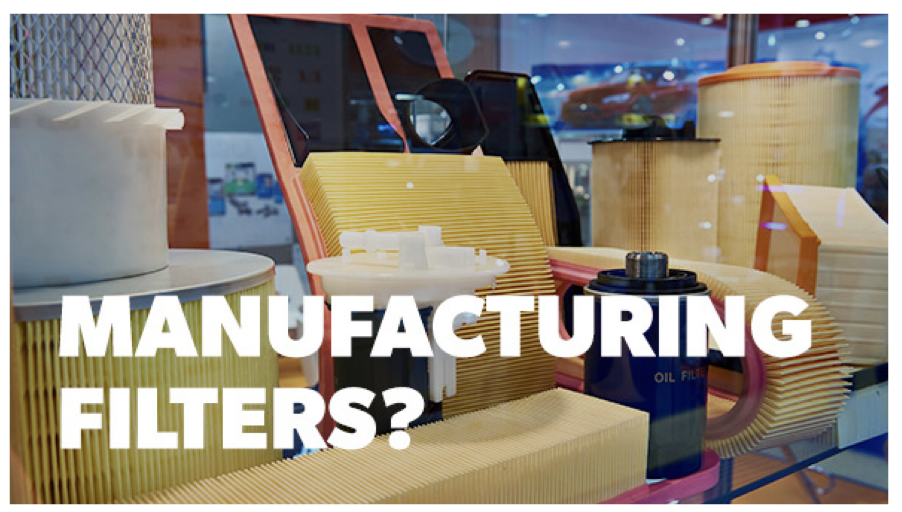 Types of high-performance adhesives used to make filters
From industrial air filters to mechanical fluid filters, adhesives create the bond delivering premium filter technology. Types of adhesives used within filter manufacturing:
Two-Component Polyurethane (2K PU) – Better temperature and chemical resistance vs. hot melts. Requires two-part mixing.
Two-Component Epoxy (2K EP) – Better chemical and higher temperature resistance. Requires two-part mixing.
One-Component Epoxy (1K EP) – Best chemical and highest temperature resistance. Requires heat to cure.
Water-Based Polyvinyl Acetate (PVA) – "White glue," low cost, slow to moderate set time, generally used for paper and wood
Cyanoacrylates – Instant bonding ready to use, two-part cyanoacrylate, low odour/low bloom and toughened/impact resistant formulas
Structural / Hybrid Adhesives – Formulated to meet the rising demands in assembly design, multi-surface structural bonding and bonding dissimilar substrate structural bonding
Silane Modified Polymers – polymer adhesive used for elastic / flexible sealing and bonding
Hot melt Pressure Sensitive Adhesive (PSA) – Immediate fixture (permanent tack), broad adhesion to substrates
Hot melt Ethyl Vinyl Acetate (EVA) – Best foaming ability, general purpose, cost-effective
Hot melt Polyolefin (PO) – Broad range of adhesion, especially to hard-to-bond substrates; high strength and durability
Hot melt Polyamide (PA) – Fast setting and high bond strengths, higher temperature and chemical capabilities
Hot melt Reactive Polyurethane (PUR) – Higher temperature resistance and higher bond strength/durability (thermoset)
The best adhesive by filter type
Market: Automotive Air Filters
Heavy-duty air filters for construction vehicles need to withstand harsh operating environments. Many applications require high temperature and chemical resistance.
Applications and adhesives:
First pleat/last pleat bonding: EVA and PA hot melts with a range of temperature resistance
End cap bonding: Durable 2-part polyurethane and epoxy adhesives
Spiral wrap bonding: PUR and PO hot melts with higher performance or cost-effective options
Market: Industrial Air – Commercial and Residential Filters
Air filters for commercial, residential and industrial use must consistently deliver high performance and reliability.
Applications and adhesives:
Panel (HVAC) filters: Hot melt and PVA water-based adhesives for frame bonding for plastic and paper frames; two-part polyurethanes for metal and plastic frames
Bag filters: Hot melt and PVA water-based adhesives for seam sealing and frame bonding with a range of temperature resistance and open times/cure speeds
Market: Industrial Air – High Efficiency Filters
The stakes are high for laboratory, clean room and industrial filters. Dust contaminants can compromise an entire electronic assembly or skew the results of a laboratory study. Adhesive solutions for manufacturing HEPA and ULPA filters.
Applications and adhesives:
Pleating: EVA hot melt adhesives with fast open and set speeds. PA hot melts for higher temperatures.
Frame bonding: Two-part polyurethane adhesives with a range of viscosities, flame retardant, range of pot life/cure speeds
Market: Mechanical Fluid Filters
Applications and adhesives:
First pleat/last pleat bonding: Hot melts with fast set times; epoxies with higher temperature and chemical resistance
Pleating/edge sealing: Hot melts with good temperature and chemical resistance
End cap bonding: Wide range of one- and two-part epoxies, hot melts, and polyurethanes with a range of temperature and chemical resistance
End cap replacement: Hot melts and two-part polyurethanes with a range of viscosities and chemical resistance
Crimp sealing: Anaerobic adhesives with a range of gap filling and fixture speeds
With over 40 years of gluing knowledge and experience we are challenged on a daily basis to find the answer to various adhesive problems and new applications. You will be amazed at what we have been asked to bond and the majority of the time we have surprised ourselves by providing the answer to some very difficult adhesive problems. Gluegunsdirect.com offer a comprehensive range of market leading adhesives technologies, technical support and training, UK stock holding across three warehouses and delivery when the customer needs it. We are the complete adhesive package!
What can you glue with our range of adhesives? Have a gluing problem, don't come unstuck, challenge our glue experts and call 0161 627 1001 – Keeping Britain Bonded Since 1979!
Posted in: Glue Stick Applications
NEED SOME HELP?
Give us a call on
0161 627 1001