Glue Stick Applications
We are the adhesive experts!
Knottec® Knot Filling Adhesive
Knottec® Knot Filling Adhesive and TACKFIX® flooring adhesives
Our unique knottec® knot-filling adhesive has been specially formulated for the fast and effective repair of not only knot defects, but also deep scratches and other forms of deep wood damage. Because of its tough characteristics, knottec® is perfect for repairing wooden doors, window frames, furniture, floors, and much more. Knottec® is now available in 16 different colours, ensuring the best possible match to the surrounding wood prior to varnishing etc.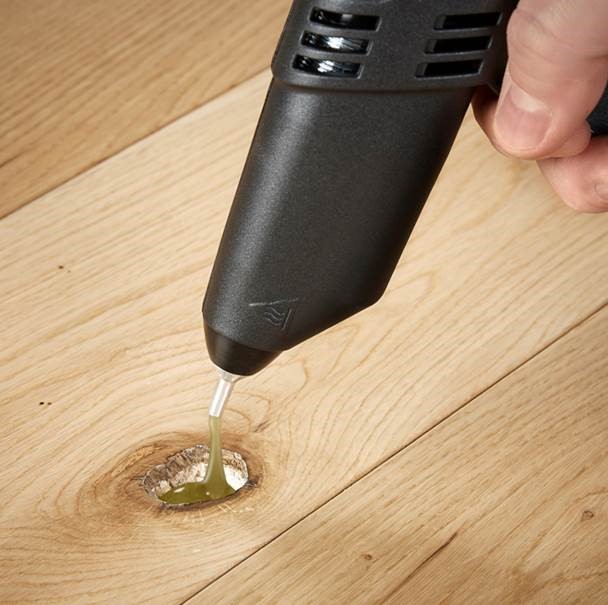 Watch the Knottec application video
Knottec® is suitable for both general applications, where a fast setting, easy-to-trim and easy-to-sand product is required, and for applications where a tougher, hard wearing product is required e.g. repairing laminate flooring. Knottec® system is the most cost-effective wood repair system on the market today.
View product range – click here

tackfix wood / flooring adhesive
Tackfix® construction adhesives are the strongest in the industry. Both formulations offer tough, flexible and shock-resistant bonds over a range of surfaces, while still allowing for expansion and movement of the flooring. Tackfix adhesives are solvent free with no odour and are 100% solid. Guaranteed to deliver a fast set when installing boards, trim pieces, hardwood flooring and tack strips. Tackfix is also ideal for use on the following materials: Metal, concrete, plastic, brick, fibre cement board, wood, ceramic, stone, tiles, and much more.
View product range – click here


Posted in: Glue Stick Applications
NEED SOME HELP?
Give us a call on
0161 627 1001