Glue Stick Applications
We are the adhesive experts!
Packaging
Carton closing, straw attachment, tray erection, deep freeze, cold storage, closure of folding boxes, UV varnished board, security packaging, palletising, difficult surface bonding we have the answer to the problem.
Tecbond shaped hot melt adhesives have been sealing cartons, tray erecting and carton closing for many years. They are ideal for small to large volume production runs and for end of line sealing of 'pop' open cartons.

FEATURE PRODUCTS
Tecbond 214/43 high performance fast setting economical packaging adhesive.
The combination of a fast set time and the medium viscosity allows Tecbond 214/43 to be used on a wide range of paper and board materials. Applied via the Tec 7100 with its dual 500 watt heaters (5 kilos per hour output) makes this probably the worlds most powerful hand held adhesive system for packaging applications.
Tecbond 214 12mm | Tecbond 214 15mm | Tecbond 214 43mm
Tecbond 261 high performance shaped hot melt adhesive for use on a variety of plastics, laminates and many UV cured varnished boards.
Tecbond 261 12mm | Tecbond 261 43mm

Tecbond 14/43 high output packaging adhesive, suitable for use on most paper and board materials.
The low viscosity of this product helps prevent stringing, improves glue gun output and ensures bonds are made with the minimum gap between surfaces. Ideal for small delicate assemblies as well as very high output applications that require fast adhesive dispensing. Suggested applicator Tec 6100 or Tec 7100.
Tecbond 14 12mm | Tecbond 14 15mm | Tecbond 14 43mm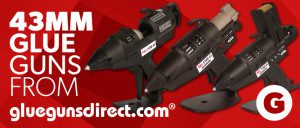 Take a look at our range of Tec glue guns:
Do you have an old or broken glue gun?
Don't throw it, exchange it for a new Tec glue gun with a 12 month warranty at a discounted price – click here ››
Posted in: Glue Stick Applications
NEED SOME HELP?
Give us a call on
0161 627 1001