Glue Stick Applications
We are the adhesive experts!
Sample, Pattern Books
Are you gluing and attaching fabrics, textiles, vinyl, carpets, veneers, curtains and blinds, leather and suede or plastics samples to pattern, sample or swatch books, show cards, wallets with promotional card with samples, folders or polystyrene cassettes. We have a Tecbond glue stick covering off your application.

Tecbond Hot Melt or Low Melt adhesives, are available in 12mm, 15mm or 43mm diameter glue sticks which offer very high performance, high output, a range of open times to suit your application.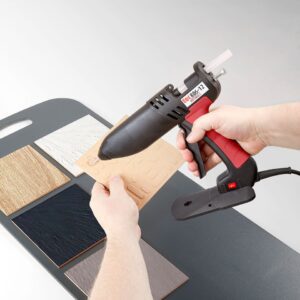 Tough flexible adhesives, which are suitable for bonding fabrics, card, polystyrene, plastics, wood and difficult to bond substrates. Excellent adhesion too difficult to bond fabrics and UV varnished and laminated boards. TECBOND glue sticks are a very versatile product that will provide tough durable bonds on a wide range of substrates.
TECBOND GLUE STICKS ARE MADE IN THE UK
Tecbond 132  – Clear general purpose  – 12mm | 15mm
Tecbond 134 – Fast setting general purpose  – 12mm | 15mm
Tecbond 135 – Long open time general purpose  – 12mm | 15mm | 43mm
If you are making sample, pattern or swatch books please give us a call, we will be only to please to discuss your requirements and put forward samples for testing, Tel: 0161 627 1001 or email: sales@gluegunsdirect.com
Posted in: Glue Stick Applications
NEED SOME HELP?
Give us a call on
0161 627 1001