Q: What's the best glue stick?
A: Surprisingly this is a very common question, sadly there is no one glue stick for all applications. However there are Tecbond glue sticks designed for specific applications that are the best!
10 of the most typical applications and the best glue sticks for the job:
Best glue stick for cardboard bonding
Tecbond 134 simply the best hot melt adhesives for sealing cartons, tray forming, wraparound sleeves and carton closing used in industry for many years. Proven, tried and tested! Tecbond have further products for applications such as, straw attachment, deep freeze, cold storage, UV varnished board, security packaging, palletising, difficult surface bonding, we have the answer to your gluing problem. Tecbond hot melt adhesives are ideal for small to large volume production runs and for end of line sealing of 'pop' open cartons. Request a sample call 0161 627 1001 – let's talk glue

Best glue stick for general plastics
There is no magic glue stick for plastic, one that does all! However, Tecbond 261 is always a good starting point for most plastics: ABS, Bakelite, Polycarbonate, Polypropylene, Polyethylene, PVC and uPVC, Acrylic. If the desired bond is not achieved using Tecbond 261 we do have specific glue sticks designed for each plastic. Call our technical team 0161 627 1001 what can we glue for you?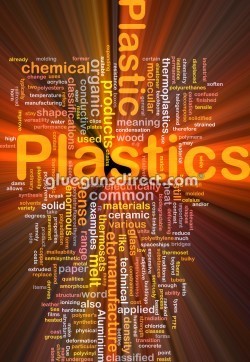 Best glue stick for wood to wood
Where are glue sticks used in woodworking? Tecbond 23 Instant bonding hot melt adhesives are used in assembly, holding bond while PVA cures, mitre joints, worktops, fixing of moulding to coffins, staircases, trimmings and edgings, drawer assembly, knot filling and repair, picture framing, foam and fabric bonding, V groove bonding of plasterboard plus many more possibilities. The only glue stick you need for securing templates for granite worktops – Tecbond 135 industry leading glue stick. Made in the UK, stayed glued with Tecbond. Request a sample pack call: 0161 627 1001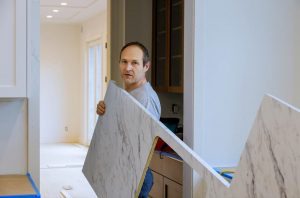 Best glue stick for Knot filling
knottec® knot-filling adhesive has been especially formulated for the fast and effective repair of not only knot defects, but also deep scratches and other forms of deep wood damage. Because of its tough characteristics knottec® is perfect for repairing wooden doors, window frames, furniture, floors, and much more. Made in Britain!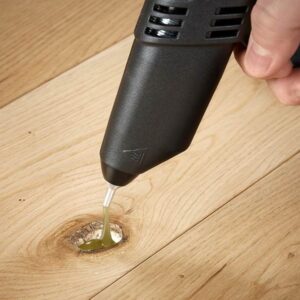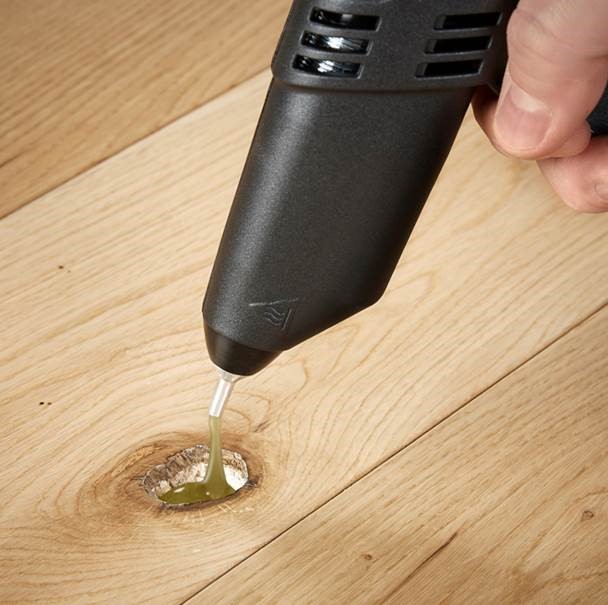 Best glue stick for rosette making
Rosettes are supplied in a range of styles using centreboards, high quality fabrics and satin ribbons bonded with Tecbond hot melt adhesives, So what's the best all-round glue stick for rosette making?
A: Tecbond 132  – Clear general purpose economical adhesive with good adhesion to many surfaces. Used extensively in rosette making covering off many applications for the bonding of fabrics, silk, paper, card, ribbons and boards. Rosette making encompasses a vast range of creative ideas and designs and we have the sticking power! And when standard glue sticks will not stick fabric, felt or ribbons? Tecbond 261 – Problem solving adhesives for difficult ribbons and fabrics that have been coated usually with a fire-retardant film. Tecbond 261 is a very high performance, high output, long open time, tough flexible adhesive, suitable for fabrics, plastics (including polypropylene) and wood. Made in Britain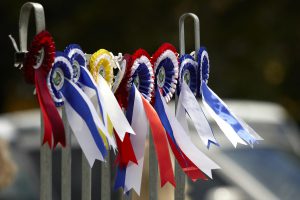 Best glue stick for polystyrene and bonding of heat sensitive materials
Tecbond LM44 Low melt adhesive reduces risk of burns due to a lower application temperature and are commonly used for bonding heat sensitive materials e.g. polystyrene, and are used extensively for arts and crafts. With the reduce risk of burns these tools are used in schools, colleges, universities and education academies and organisations. Hot melt adhesives will damage materials such as polystyrene!
Low Melt adhesives are fast setting adhesive can also be used for carton closing and other applications involving paper, board, wood, GRP, aluminium and some plastics. It is also useful for expanded polystyrene and polyethylene foam assembly, as the low application temperature prevents thermal damage distortion. Low Melt Adhesives are suitable for use on temperature (heat) sensitive materials that would be damaged by normal hot melt adhesives. A bead of hot melt will melt into polystyrene!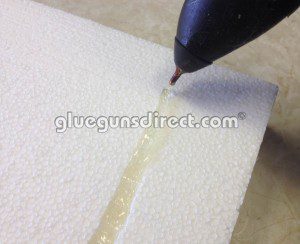 Best glue stick for product assembly
Have you tried Tecbond 261? Product assembly covers a vast range of applications, markets and substrates. We are challenged on a daily basis to find the answer to various adhesive problems and new applications. You will be amazed at what we have been asked to bond and the majority of the time we have surprised ourselves by providing the answer to some very difficult adhesive problems with Tecbond 261 truly a probably solving glue stick!
Request a sample pack of our probably solving glue sticks: Tecbond 261, Tecbond 5 and Tecbond 1942 – What can you glue with Tecbond

Best glue stick for Wire tacking / attaching cables
New to the market and delivering results – Tecbond 238 is an acrylic based high performance adhesive that bonds to wood, ceramics, metal, glass and plastics. Tecbond 238 is used by electrical installers for PVC and ABS, suitable for mounting trunking, boxes, PIRS, smoke detectors, CCTV and attaching cable and wiring to brick, plasterboard, wood, painted surfaces, and steel beams and it's made in Britain. Request a sample pack including Tecbond 342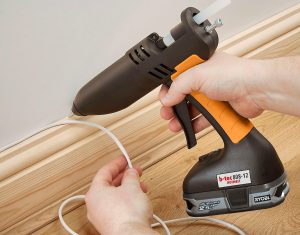 Best glue stick for flooring contractors
Has to be Tackfix® 48 Acrylic construction adhesives and the strongest in the industry. Used by flooring contractors for attaching tack strips (gripper rods) to concrete, wood and tiled floors as well as attaching door bars, stair nosing and laminate floor trim. Power glue for demanding applications, request a sample pack call: 0161 627 1001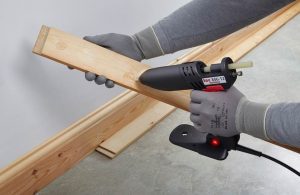 Best glue sticks for Electronics
We see an adhesive problem as a challenge and an opportunity to extend the bounds of today's adhesive technology. Tecbond 7718 polyamide based hot melt adhesive used for bonding, potting and encapsulating, Magnet Bonding, PCB Assembly, Wire Harnesses, Lamp bonding, Component Encapsulation, Wire Tacking, Resistor Potting, Batteries, still the best glue stick for the job!