Glue Stick Applications
We are the adhesive experts!
Woodworking
Glue Sticks & Guns for woodworking, joinery, flooring and assembly
Tecbond 135 shaped hot melt adhesives is used for general woodworking assembly, mitre joints, templates for granite worktops, fixing of moulding to coffins, staircases, trimmings and edgings, draw assembly and picture framing. Also used by carpet fitters and flooring contractors for attaching tack strips (gripper rods) to concrete, wood and tiled floors as well as attaching door bars, stair nosing, laminate floor trim.
Tecbond 135 hot melt adhesive is a long open time product with good heat resistance and good adhesion to soft and hard woods, plus rigid PVC, polystyrene, foams and fabrics. Available in 12mm, 15mm glue sticks and 43mm glue slugs
#Tecbond 135 #Tecbond 23 #Tecbond 213 #gluesticks
Repair the knot with Knottec wood repair system
KNOTTEC 7713 Knot / wood repair hot melt filler available in 16 colours to provide the perfect match. Fast setting, easy to trim and sand, low shrinkage and suitable for all varnish and oil finishes. The flow characteristics and low shrinkage make it ideal for knot filling and other wood repairs. It is exceptionally easy to trim with a sharp knife or chisel, and can be easily sanded to a fine finish.
Knottec® wood repair sticks have been especially formulated for the fast and effective repair of knot defects, deep scratches and other forms of deep wood damage. Knottec® is perfect for repairing wooden doors, window frames, furniture, floors, and much more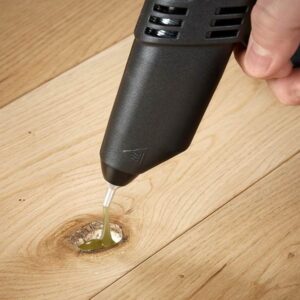 We also supply Tuskbond canister and aerosol adhesives for upholstery, contract flooring and woodworking applications. 
Tuskbond ONE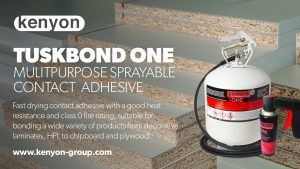 Tuskbond ONE is a low odour, fast drying contact adhesive made in the UK for over 16 years. Suitable for bonding a wide variety of products, Tuskbond ONE provides good temperature resistance, a long open time with a class 0 fire rating. Tuskbond ONE is ideal for permanent bonds that require good initial bond strength
Decorative Laminate
HPL (High Pressure Laminate)
Veneers
MDF
Chipboard
Plywood
Some Plastics
Tuskbond XPRO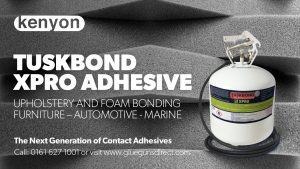 Tuskbond XPRO uses the latest solvent technology for minimal toxicity, meaning low hazard to human health. Possessing the best qualities of Tuskbond ONE, XPRO provides incredible grab, high bond strength and excellent heat resistance. It is easy to apply and combines a long open time with a very fast drying time.
Decorative Laminate
HPL (High Pressure Laminate)
Veneers
MDF
Chipboard
Plywood
Some Plastics
Better health and safety
View the full range of Tuskbond adhesives for Woodworking, Contract Flooring and Upholstery 
We are Premium Partners for Henkel supplying adhesives to furniture and building component markets.
Providing quality products for woodworking, furniture, caravan, insulation, mattress, window,  door manufacturers, kitchen worktops, bedroom and kitchen furniture, fire doors, sports lockers, and washrooms. From Edgebanding to one-component polyurethane dispersion for 3D membrane press applications supplied under the Henkel brands Technomelt and Aquence.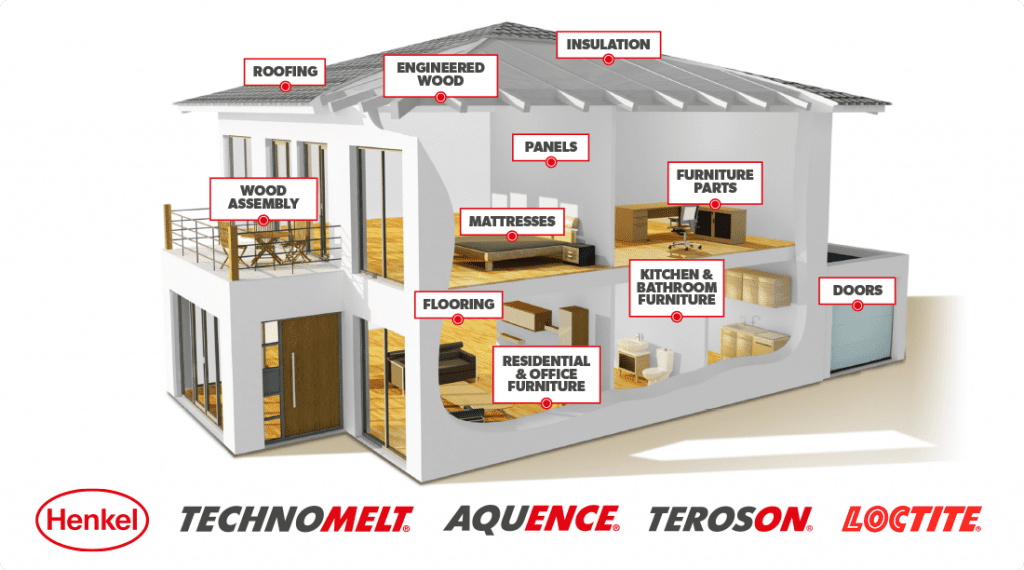 Did you know we supply our own range of PVA adhesives?
Kenyon range of  D3 / D4 PVAc adhesives formulated for window manufacturing, flat lamination, furniture production, parquet flooring, door production, solid wood bonding and general assembly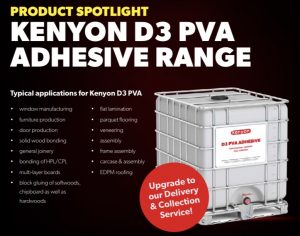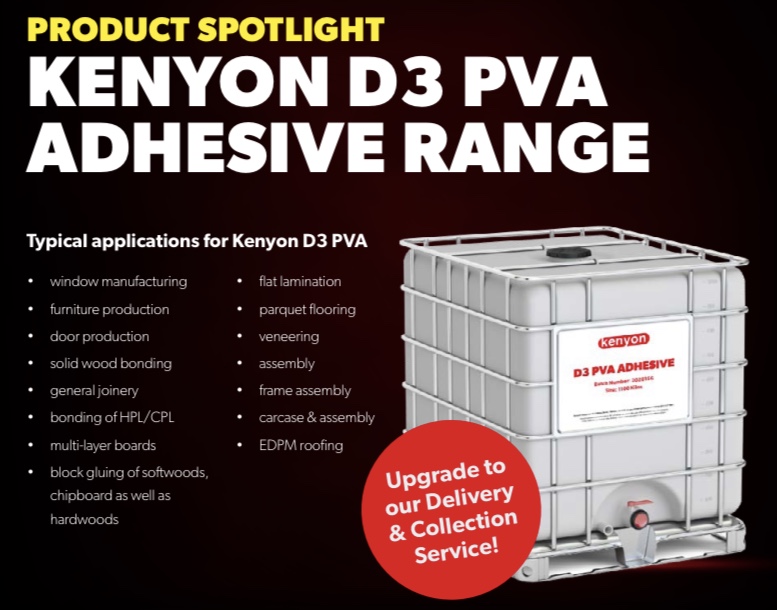 Available in 1 kilo, 5 kilo, 25 kilo pails and 1100 kilo IBC containers from stock.
Proven adhesive technology which delivers results
Delivery on time across the UK from stock
Competitive prices and technical support, the complete package from one source
Kenyon PVAc range for general joinery, frame assembly, laminating doors and similar constructions, surface bonding of HPL/CPL in short cycle presses, carcase and assembly gluing, bonding joints in boards and block gluing of softwoods and chipboard as well as hardwoods.
Everbuild Adhesives and Sealants for Woodworking & Joinery
Range of products from Everbuild and Sika of which 80% are Made in Britain.
5 minute polyurethane wood adhesive (Liquid) – 5 minute polyurethane wood adhesive (cartridge)
30 minute polyurethane wood adhesive (Liquid) – 30 minute polyurethane wood adhesive (cartridge)
Mitre Fast – EB25 adhesive & sealant – PVA adhesives D3 & D4 – Silicone Sealants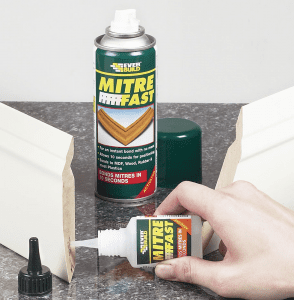 With over 40 years of gluing knowledge and experience we are challenged on a daily basis to find the answer to various adhesive problems and new applications. You will be amazed at what we have been asked to bond and the majority of the time we have surprised ourselves by providing the answer to some very difficult adhesive problems. Gluegunsdirect.com offer a comprehensive range of market leading adhesives technologies, technical support and training, UK stock holding across three warehouses and delivery when the customer needs it. We are the complete adhesive package!
What can you glue with our range of adhesives? Have a gluing problem, don't com
unstuck, challenge our glue experts call 0161 627 1001 – Keeping Britain Bonded Since 1979!
Posted in: Glue Stick Applications
NEED SOME HELP?
Give us a call on
0161 627 1001