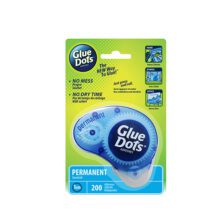 Permanent Dot 'n' Go 2000 Glue Dots
10 Handy Applicators each with 200 Permanent Glue Dots for sticky crafty projects, once stuck will not move!
The new way to glue, bonds to virtually any surface. Super strength - Bonds instantly 10 handy ...
Showing all 9 results
We have some great arts and crafts glue, particularly for schools. We have glue sticks which are suitable for wood and metal in many different colours, and glitter glue sticks for adding that extra sparkle!