Completely portable B-Tec 308-12 and B-Tec 808-12 cordless glue guns give users the ability to work virtually anywhere
What makes these tools so special is the range of battery adaptors – which we have trade-named Badaptors – that can be used with them. With the aid of the Badaptors, the B-Tec guns can be used with five different battery systems.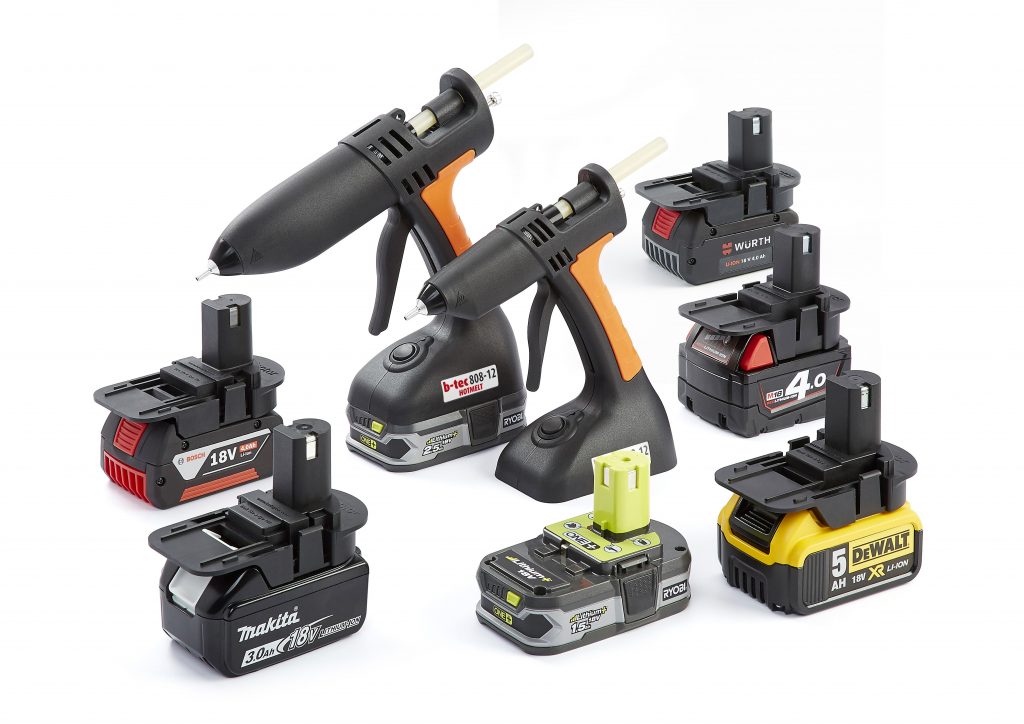 Tec cordless tools are designed to use the Ryobi One+ battery as standard. But they can easily be adapted to use Makita®, DeWalt®, Milwaukee® and Bosch® Professional 18V batteries – just by using the appropriate Badaptor.
Both B-Tec cordless tools feature an Eco-mode setting that will almost double the battery life for any given battery size, giving a maximum of 5 hours run-time with the largest 5Ah battery (batteries with different Amp Hour ratings are available).
The Badaptors carry a key benefit for any prospective customers that already have tools running on the battery systems mentioned above. Rather than go to the trouble and expense of investing in another battery system, they can just buy the glue gun and a Badaptor.
The cordless operation provided by the B-Tec guns gives users a new freedom to apply fast setting hot melt adhesives indoors and out. This system is ideal for use by tradesman in carpet fitting, exhibition stand fitting, window and shop display fitting, and in fitted kitchen and bedroom installation. It's also well suited to the resealing of cartons after security inspection, before goods leave the factory, and many more applications besides.
When combined with the Badaptors, this is one of the most versatile cordless glue gun systems on the market.