Probably one of the world's highest-output hand-held hot melt applicators, the TEC 7000 series are a serious alternative to bulk tank hot melt systems at a fraction of the cost.
TEC 7100 Bead and Tec 7300 Spray tools. The most unique feature on these glue guns is the built-in speed loader, which holds an extra two 43mm glue cartridges in reserve. Plus, it also enables the user to re-load in seconds whilst continuing to use the tool. Due to the advanced heater housing design and the powerful dual 500 watt heaters, the TEC 7100 and Tec 7300 are able to dispense over 5 kilos of molten hot melt per hour. Serious gluing power!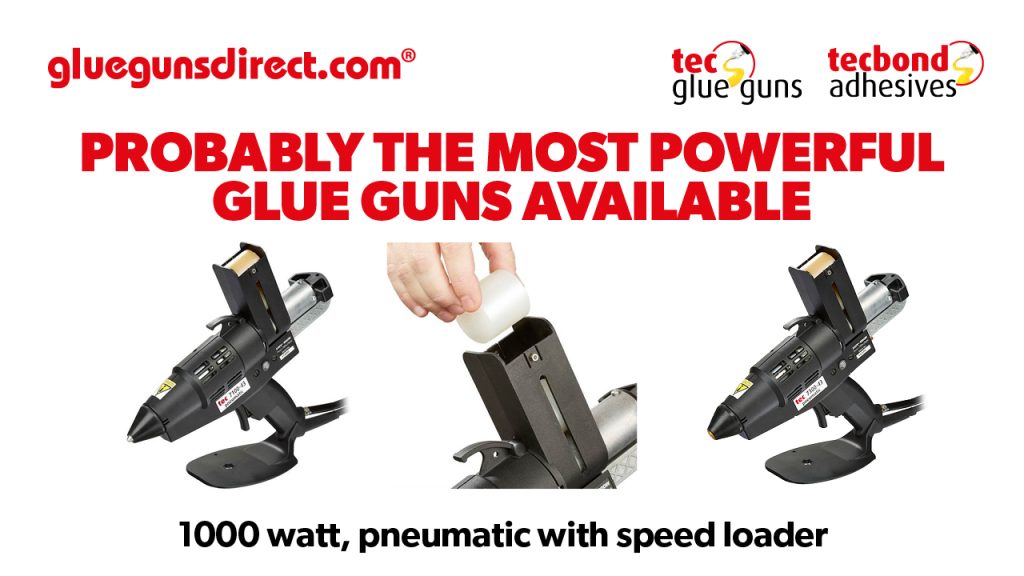 * 12 months warranty
* Full UK repair service
* New for Old Service
* Made in Britain
* What can we glue for you?
Tec 7300 is unique economic hot melt spray system is ideal for covering areas of up to 2m2 at one time, and can be used on heat sensitive materials, such as expanded polystyrene and other plastic films and foams. Used in conjunction with Tecbond 420 (3 minute open time) and Tecbond 430 (6 minute open time) hot melt adhesives.
These tools are built to perform and deliver glue on demand. Built in Basildon and stocked in Oldham for next day delivery.
Don't forget if you have an old, broken or whatever condition glue gun, don't throw it, exchange it for a new one at a discounted price with our New for Old Service!
Arrange a demonstration today, call Steve 07960 047020 or email: stevemorrow@gluegunsdirect.com
www.gluegunsdirect.com – proud to support Guide Dogs and keeping Britain bonded since 1979
#Tecbond #glueguns #hotmeltadhesives #pneumaticglueguns #powerfulglueguns #madeinbritain