Tecbond B01 and Tecbond B02 are back in stock. Quality adhesives, made in Britain, at a very competitive price.
Discount for bulk purchases, call 0161 627 1001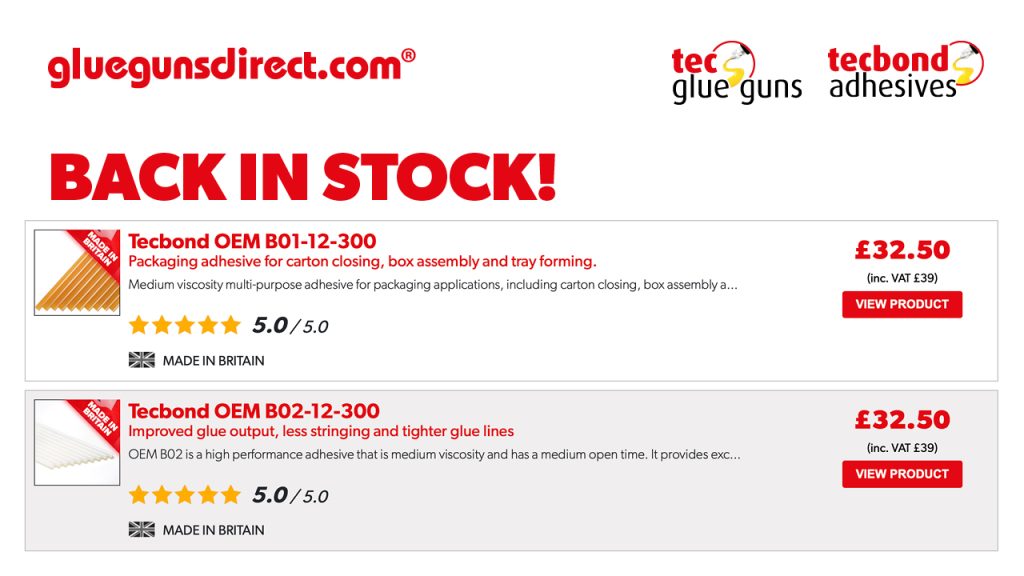 Visit our Grab a Bargain page: https://www.gluegunsdirect.com/shop/clearance/
Go straight to the product:
Tecbond B01 packaging, carton assembly, box assembly, tray erecting
Tecbond B02 general purpose clear grade, rosettes making
What can you glue with Tecbond?
Have an adhesive problem, don't come unstuck, call:
South of England – Call Steve Morrow 07960 047020 or email: stevemorrow@gluegunsdirect.com
North of England – Call James Hamilton 07807 107309 or email: jameshamilton@gluegunsdirect.com
www.gluegunsdirect.com – proud to support Guide Dogs
#Tecbond #manufacturing #gluesticks #glueguns #madeinBritain