Where are adhesives on their safety and sustainability journey? And where are they going next?
In the home furnishing industry, change is a constant factor. Just ask yourself: what would a kitchen have been like in the 1950s? Many of them would have been wood-furnished, expensive, and highly uniform in their design. Today, a kitchen could employ a totally different range of styles and materials, as a glance through social media will testify. And many of these have become more affordable, too.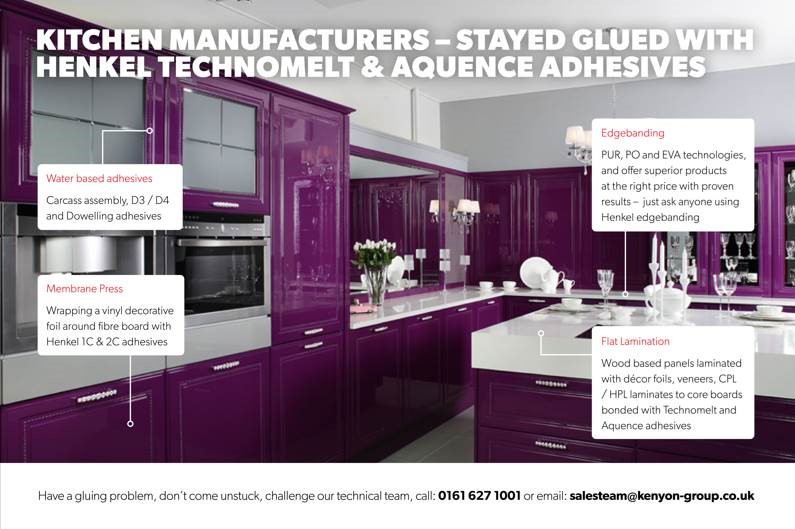 This isn't purely down to design trends – it's technology that enables this change to happen and scaling up new technologies makes them accessible to more people via the market. Today's variety of consumer options is in part thanks to the flexibility of adhesives, which have replaced screws and other fasteners in many applications. Advances in adhesive technology have greatly increased their ability to securely bond different substrates and to work reliably in different physical settings, moisture and temperature levels.
To sum all this up: technologies in industrial adhesives are always improving. Today, though manufacturers have more effective and flexible technologies than ever to choose from, the development journey certainly is not 'finished'. In fact, the pace of evolution might even accelerate.
Technology fuels sustainability, and vice versa
So, how is it going to change next? Any conversation with furniture industry stakeholders will reveal that sustainability is a key trend, with a specific focus on promoting greater health and safety for operators and customers. Why is this? There are several reasons, incoming regulations and a global societal focus on sustainability, of which operator health and safety is one part; and the availability of products that offer a greatly reduced hazard without performance penalties.
All these factors increase the urgency with which we are embracing sustainability and risk reduction – but in a general sense, these have been a trend for some time, with market uptake steadily growing as product accessibility and price parity does. The widespread switch to PUR hotmelts is one example from the recent past. Industry leaders embraced this technology and appreciated the resulting products' excellent versatility, heat and moisture resistance.
One upcoming chance is that new training requirements for products containing diisocyanates will come into force in August 2023, as part of an EU-wide drive to improve the protection of human health from potential risks from chemical substances. For businesses to get ahead of the new requirements, they need to invest in mitigation measures – and this is where technology comes in once again.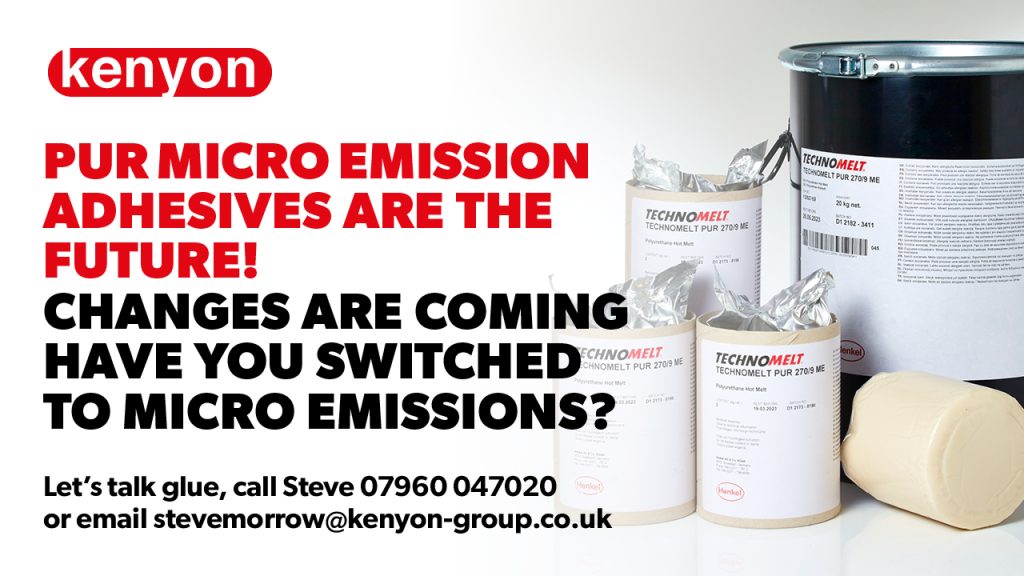 At Henkel, we aim not just to follow but to lead the sustainability trend and make it a core part of our strategy and R&D pipeline. As a result, we already have established products using technologies to significantly reduce the diisocyanates found in PUR hotmelts: our Micro Emission range. A typical polyurethane hotmelt contains 2-5% pre-monomeric diisocyanates; a Henkel Micro Emission product contains under 0.1%. These are exempted from the new restrictions on diisocyanates, meaning our customers have the chance to get one step ahead in their safety and sustainability journey.
Why it's important to never stop innovating.
Adhesives aren't a high-volume product, but they are a ubiquitous one, meaning our mission to make them as safe and practical as possible will have a wide-ranging impact.
Therefore, at Henkel, we engage very closely with the topic of non-hazardous ingredients: not just implementing current industry standards but endeavoring to set a new standard. We are constantly researching further technological approaches, to make the adhesives safe to use but also to put them on a sustainable footing – for example, by using raw materials based on renewable carbon. Our Micro Emission range is well-established and proven to work in customers' real-world operations. It is a versatile product, VOC-free, and represents a tremendous improvement when it comes to exposure and safety level. It's a win-win for sustainability and for business.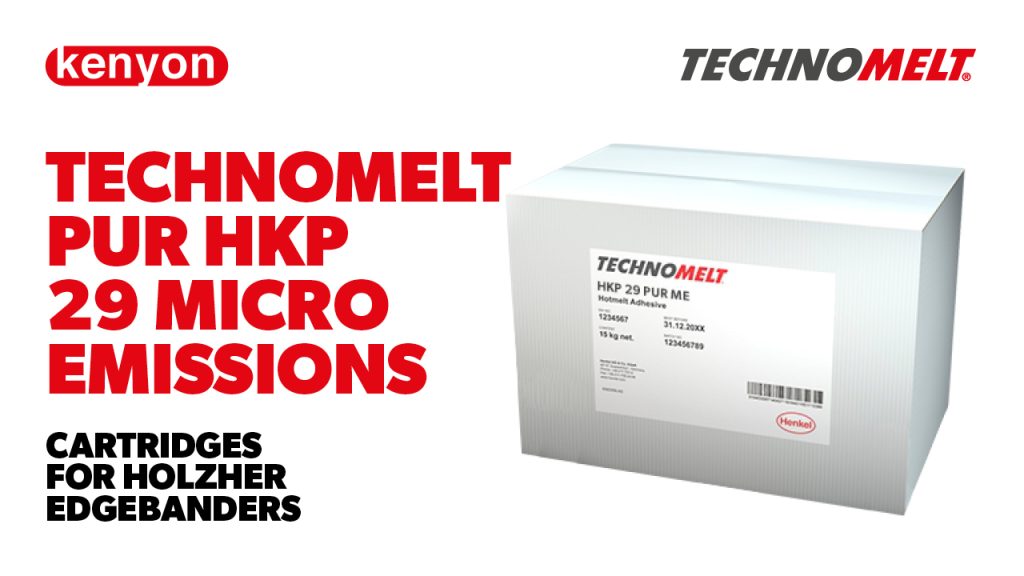 Today, we see the wider industry heading in the same direction. We are, of course, compelled by regulation, which plays an important role in keeping us aligned. But beyond that, there is increasing recognition that switching to non-hazardous ingredients is the right thing to do. Implementing this change in conjunction with the 'safety belt' of mitigation measures, in an optimal combination according to your own needs and priorities, is the best practice we recommend achieving a very low level of risk.
That's why we believe that operational safety will be a central aim of the industry's innovation efforts. It will be more than a compliance issue: it will be something more and more companies actively pursue as part of their mission to protect people and the environment.
Technologies such as Micro Emission will scale up further and become the industry standard. And, of course, new technologies will eventually emerge and change the game once again. We are in a forward-thinking industry, where customers actively demand more sustainable products. Non-hazardous adhesives are an important part of that, and today's market offering is stronger than ever. But what's exciting is thinking about what's next.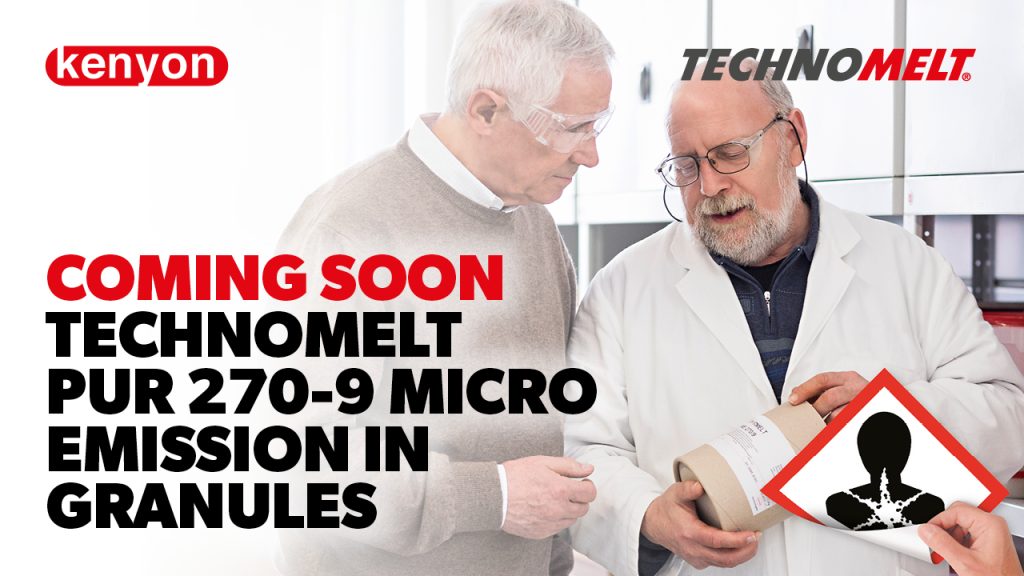 At Henkel, our goal is not just to learn the future: it's to design it. Our Micro Emission grades – a technology that's set the standard for operational safety and peace of mind – are just one example of how we always push forward.
Find out more, call Steve on 07960 047020 or email stevemorrow@kenyon-group.co.uk
www.kenyon-group.co.uk – Keeping Britain Bonded Since 1979