Woodworking
We are the adhesive experts!
Are you buying glue from this man?  If not, why not?!
Meet James Hamilton – woodworking adhesive specialist at Kenyon Group Ltd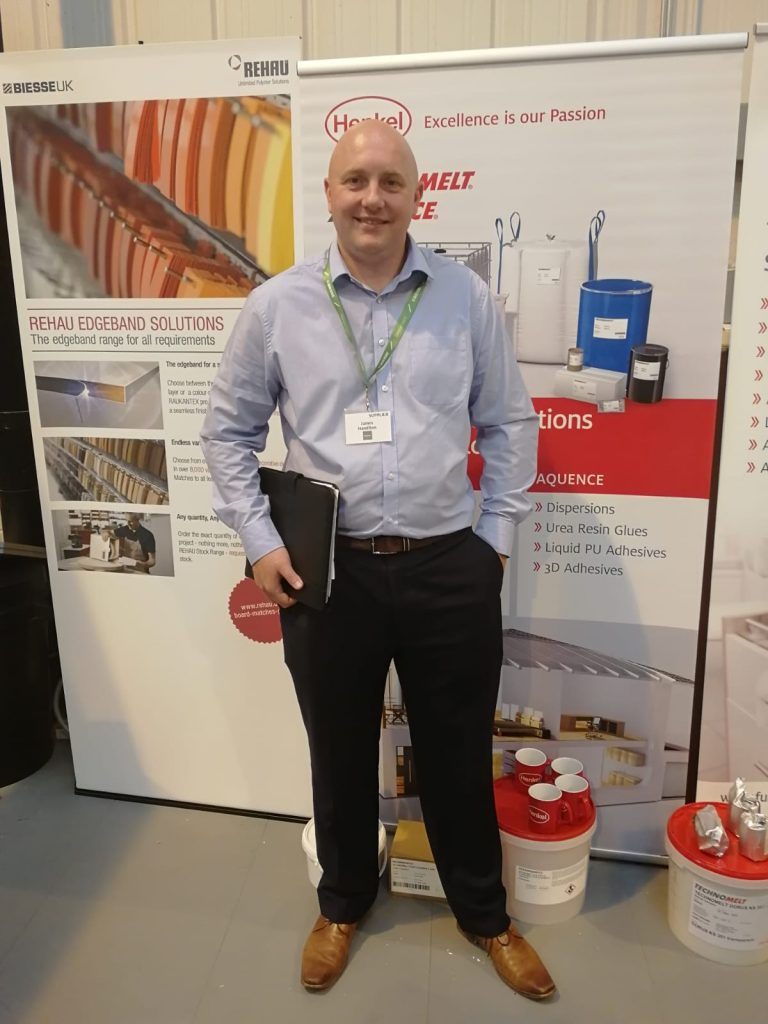 With over 20 years' experience with adhesives and specialising in adhesives for the woodworking, furniture, caravan and insulation markets, James brings a lot of experience and knowledge to the table. Not only is James the driving salesforce for Kenyon's, he is also a problem solver!  James started selling adhesives for Kenyon's back in 1999 and over the years has seen many changes, not only with adhesive technologies, but also with materials and application methods.  There have been technological advancements, materials have evolved and adhesives have had to adapt to meet market needs.  James says, " when I started out in the industry solvent-borne adhesives dominated the market.  However, back in 2002 Kenyon's made the decision to became a solvent free company, focusing on alternative adhesives based on either aqueous or hot melt technologies to replace solvent based products.  One key factor in making this decision was the environment – it has been at the forefront of our decisions for many years.  Now the market focus is on formaldehyde free PVAc adhesives, Micro Emission PUR adhesives and even Vegan adhesives, and again we are leading the way – the adhesive world is changing and changing fast."
Whilst the title of this article clearly has an element of jest to it and is a bit of a headline grabber, in reality James offers a skillset that's second to none – he delivers the sale, solves issues, addresses health & safety concerns, and even conducts operator guidance – there aren't too many out there who combine all these skills in one package.  Whether you are using PUR adhesive for edgebanding or D3 PVAc for flat lamination, James will sell you the adhesive and technically support you!  From micro companies to the Plc giants, from shop floor operatives to boardroom Directors, James will talk glue .  James runs regular workshops where Kenyon's staff and customers challenge James to find the bonding answers.  Choosing the right materials, working with the correct joint design, these workshops are not just about glue –  James spends the time to take the concept from a fag packet idea through prototype to full production.
Turning the clock back, we ask James how, why and what got him into the world of adhesives.  "Good question", says James " I was working for a tooling company and did not feel sufficiently challenged.  I saw a job advert for Kenyon's and applied.  At my interview I was really impressed with the team and got a real sense of the strong family values are at the heart of the company and are the main driving force.  Over the years I got more and more involved with the  adhesive range and the technical side of things and I really enjoyed being challenged, as well as travelling to customers, looking at the various different application and working closely with them. This always gave me great satisfaction and I soon realised my zest and vocation in life was adhesives, and the rest, as they say, is history.
Visit: www.kenyon-group.co.uk
Call: 0161 627 1001
Mobile: 07807 107309

Posted in: Woodworking
NEED SOME HELP?
Give us a call on
0161 627 1001